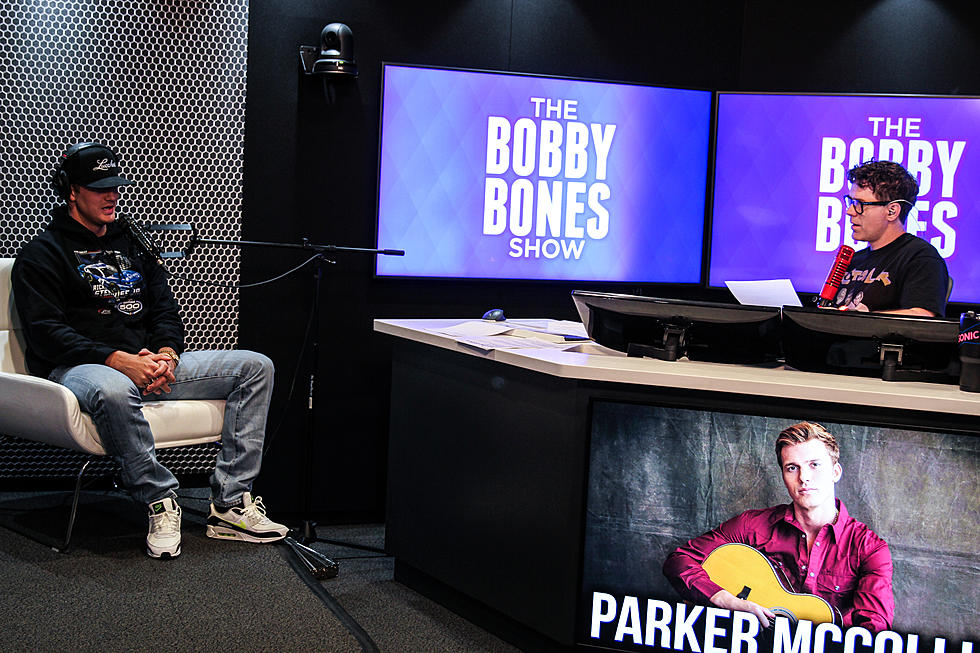 Parker McCollum Shares Why He Didn't Let His Dad Help at Start of Career
Used with Permission
Parker McCollum is a busy man; he's currently going on two major tours, as well as preparing for a new album released next month. He stopped by The Bobby Bones Show today (April 11) to share the inspiration behind his new music, his routine on the road, and why he didn't let his dad help him at the start of his career.
McCollum is currently on his headlining tour and gearing up to go on Morgan Wallen's One Night At A Time World Tour next month, and his song "Handle On You" is approaching the number-one spot. While performing, McCollum admits he sometimes will forget the words to his own songs. So, he'll just mumble along until he can get back to a spot he knows. Back in February, he had to cancel some shows because he got sick. He said he played three shows with his voice sounding awful, just tried to work through it, before he finally decided to cancel a show. He figured rescheduling a show was better than going on stage and sounding like garbage because he knows people spend their hard-earned money on tickets to see him. He wants to make sure he gives them their money's worth and the show they deserve.
His new album, Never Enough, comes out May 12 and it contains the first time he used the word "beer" in a song called "Hurricane" which he wrote with David Lee Murphy. It dawned on him when he was making the record and he said he didn't do that intentionally. There are so many songs with common topics so to be successful he's tried to stay away from it. He didn't consider changing the lyrics because he likes beer songs, but sometimes they feel generic he said. McCollum said he feels weird about putting new records out. He always leaves the studio feeling like he missed something, and it won't be perceived well. He said songwriting for him is hard on his mind. It sometimes takes him to dark places in his mind to write the most honest song he can, which can be difficult to pull himself out of. Like a new song on his album called "Have Your Heart Again," which is a piano ballad he called "the most vulnerable song he's ever written."
McCollum admits his career is as good as it has ever been right now and it's bigger than he ever dreamed about as a kid. But that makes him feel anxious because it's a full responsibility and he still has a full career and personal life he needs to run. He doesn't get much downtime these days with his busy touring schedule. He's finally at a place on the road where he's gotten a routine down and said it's hard to have his wife on the road with him because of it. He's so accustomed to going non-stop on the road he's not too worried about getting tired. He recently posted on Instagram a video of his new tour bus that he designed. To get it to look like what he wanted, he took screenshots of what he liked and sent them to the designer.
It took months and was expensive, but that's where he spends most of his time so he said it was worth it, especially since he turned down his dad's offer to buy him a bus early on in his career. McCollum's family owned a big concrete company that they sold a few years ago. His dad now sells cars and is a big-numbers guy. Growing up in Texas, he was aware of paying your dues in the music scene. He watched for years all the Texas country artists really work their way to the top. When he chose to pursue music, his dad offered to buy him a bus, but he never wanted to be known as the kid who has his dad buy him a music career. That thought weighed heavy on his mind. He knew he had to play small bars and tour in a van if he truly wanted to feel like he had earned his spot in music. He said he wanted to get out and do it the hard way and not just have it handed to him.
Listen to The Bobby Bones Show weekday mornings on The New 99-1 and 100.5, Kickin' Country. 5:00 AM to 9:00 AM on weekday mornings. 
Parker McCollum has announced more tour dates for his headlining tour. You can find more information on his website.
More From KIKN-FM / Kickin' Country 99.1/100.5