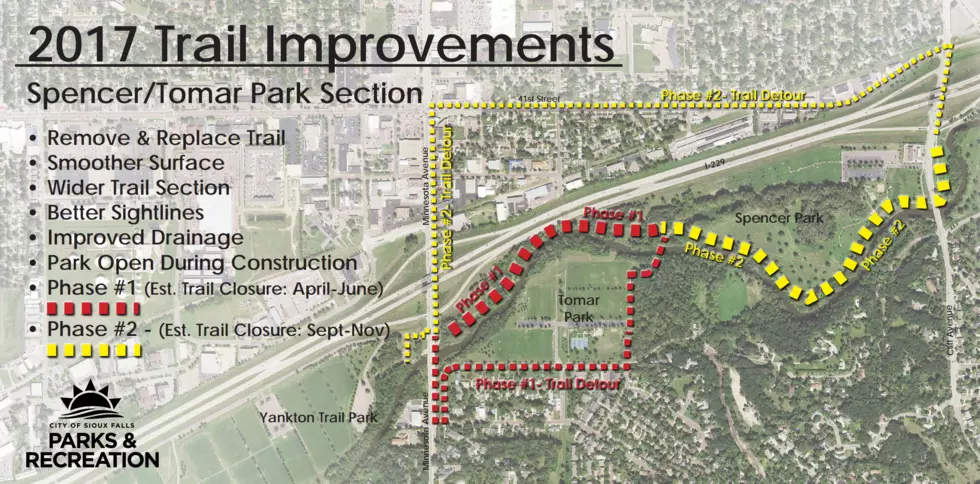 How to Avoid the Nasty Detour on the Sioux Falls Bike Trail
SiouxFalls.org
It will be great when it's done. The city completely redid the portion east of Minnesota that hooks up near Tomar Park earlier this year.
The official detour, however, is terrible. That's the top map, above.
Cyclists, runners, walkers, and skaters are supposed to use Cliff to 41st Street to Minnesota and back to Yankton Trail Park, if you're coming from the east. (Reverse, obviously, if you're coming from the other direction).
It's fine if you're accustomed to traffic, which I am. But a lot of people aren't, and these are busy streets and intersections. So officially the city's detour is on the sidewalk on the north side of 41st -- both ways. That means they are telling people to ride on the sidewalk against traffic, which is really the most dangerous thing you can do on a bike.
There is an option, however, though it's not official or encouraged. But it is legal.
The second map above shows how you can use the part of the closure that's already reconstructed -- and beautiful -- from Yankton Trail to the Tomar bridge. Then you just get peal off north through the gap in the trees where the disc golf course goes, follow the fence line to the Spencer Park parking lot and back up to Cliff.
It's less than half a mile of grass and easily rideable, especially along the fence where the grass isn't thick and there's a bit of beat down path. If you want to walk it, it's not that far.
It's not illegal or anything because Spencer Park isn't closed or anything. You can play disc golf, the dog park is open and the soccer nets are still up. So there's no reason you can't ride your bike through there.
I understand the city's detour. They are in a bad spot. There aren't any good options and I suspect the contractor doesn't want to risk any liability, etc.
At any rate, this is the route I'm using. I'm not telling you what to do, but this works just fine and you don't have to deal with the traffic.
More From KIKN-FM / Kickin' Country 99.1/100.5