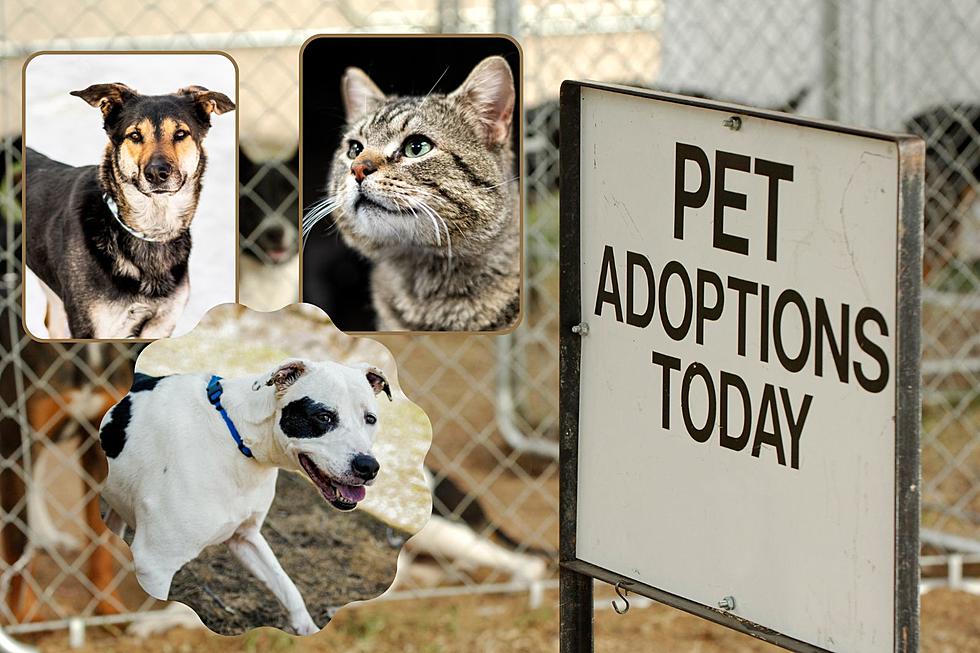 Help Sioux Falls Area Humane Society "Empty The Shelters" In May
Sioux Falls Area Humane Society (with permission), Canva
No matter the circumstances, every pet deserves to have a comfortable home. For animals at the Sioux Falls Area Humane Society, the staff makes it their mission to find homes for all their furry friends.
There are plenty of opportunities for residents to help the Sioux Falls Area Humane Society. One of the most life-changing ways is by adopting an animal. There's one event that allows all animals the chance of finding their "furever" homes.
"Empty the Shelters" is a national adoption event that encourages people to take loving animals home. BISSELL Pet Foundation sponsors the event for the Sioux Falls Area Humane Society.  Last year during the "Empty the Shelters" event, 61 animals were adopted from the Sioux Falls Area Humane Society.
According to a recent press release, the "Empty the Shelters" begins on Monday, May 1st and continues through Monday, May 15th. The Sioux Falls Area Humane Society explains that this is a "reduced fee adoption event." For example, anyone who wants to adopt a cat or kitten, the adoption fee is reduced to $20. Adoption fees for dogs are reduced to $50. This offer does exclude puppies at the Sioux Falls Area Humane Society. Emily Adkins of the Sioux Falls Area Humane Society says, "This helps adopters keep some of the money that would have gone towards the adoption fee, and instead it goes towards the animal's care and well-being after the adoption. Bissell reimburses our shelter with some of the adoption fees. This event is crucial for our shelter because it helps open up more kennels for other animals in need of a temporary home and still supports the shelter's financial needs." It's truly a great opportunity to find your new "fur-ever" friend!
Before you head out the door to find your new four-legged friend, all future adopters must be pre-screened. There is an extensive adoption process at the Sioux Falls Area Humane Society. The staff also has to see if future owners are compatible with their potential new family members.
There are adoptable dogs, cats, and other small animals at the Sioux Falls Area Humane Society waiting for a new home. Take a look to see which furry friend would be right for you!
9 Sioux Falls Streets Visitors Have A Hard Time Pronouncing
If you are visiting or new to
Sioux Falls
and trying to find your way around, chances are you really don't need to pronounce street names correctly. All you have to do is enter your destination into Google Maps and your phone will show you the way.
But what if you are trying to tell someone where your cool friend or family member lives in our fine city? Some of our streets and avenues have tricky spellings that may throw visitors for a loop when trying to sound them out.
No one is going to mess up on the big thoroughfares like Minnesota Avenue, Western Avenue, or Louise Avenue but what about these?
Best Bars in Sioux Falls
There is always something different to try when you visit a local
Sioux Falls
bar or brewery. There could be a specialty drink at one bar and a new beer recipe at the next. It's kind of like a smorgasbord of drinks to taste test. The only problem is deciding which bars are the best bars in Sioux Falls to explore with your family or friends?
This is a difficult decision just because there are so many great local options. Luckily, our friends at
Yelp
identified the top ten bars in Sioux Falls thanks to numerous reviews on each establishment.
The next time it's your turn to select a bar for a night out on the town, be sure to visit one of these ten bars highly reviewed by
Yelp
.
More From KIKN-FM / Kickin' Country 99.1/100.5