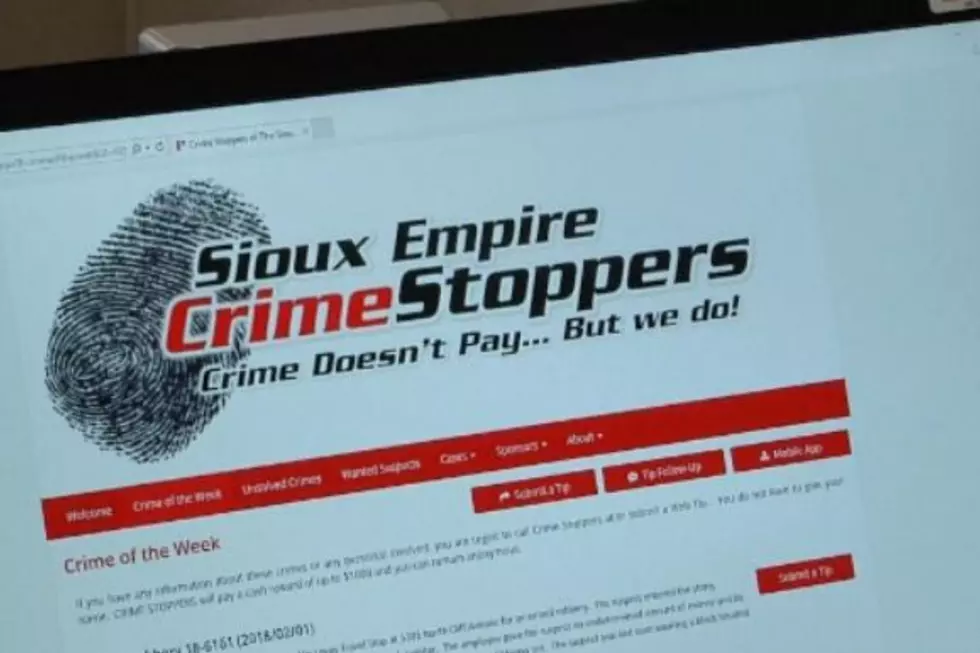 How Does Crime Stoppers of the Sioux Empire Work?
KSFY TV (with permission)
As the population of Sioux Falls continues to grow, unfortunately, more and more crimes get committed.
To help investigate and solve many of the crimes being committed, the Sioux Falls police department relies on tips from the public.
If you have lived in the Sioux Empire for any time, you have undoubtedly heard of Crime Stoppers of the Sioux Empire. A 24-hour anonymous tip line, designed to allow residents the opportunity to provide information to authorities that hopefully will aid them in their ability to investigate and solve various crimes being committed throughout the Sioux Empire.
The key in all this is, every bit of information given to police from Crime Stoppers remains 100 percent anonymous, so the people giving it can maintain their privacy.
Sioux Falls Police Officer Sam Clemens, explained to KSFY how Crime Stoppers works.
If you have a tip about a particular crime, but you want to stay anonymous, Crime Stoppers of the Sioux Empire is the way to go. Residents can submit a tip online, call the Crime Stoppers hotline number, or download the free P3 Tips app.
From there, your information is sent to a call center that is located outside of South Dakota.
Clemens told KSFY, "The information goes and then it's essentially scrubbed. The details of that are then sent to the police department, so it happens near-instantaneous, the P3 app I believe that it connects somewhere up in Canada, so we'd have no access to that."
The Sioux Falls police department ultimately receives all the pertinent crime tip information given but is in no way affiliated with Crime Stoppers. Therefore, they have absolutely no idea who the person that is supplying the information is.
As you might know, Crime Stoppers even offers rewards of up to $1,000 for information given that helps to lead to the arrest or indictment of those responsible for the various crimes committed.
According to Clemens, in situations like that "Crime Stoppers has the ability to somehow go through their system and get a hold of the person, but as far as we're concerned, it's just a tip. We have no idea here in Sioux Falls who the person was that supplied the information."
KSFY reports that last year, 1,901 tips were given to the Sioux Falls police department via Crime Stoppers. Of those 1,901 tips, 971 required some kind of investigative follow-up from detectives.
Remember, should you ever need it, the Crime Stoppers Hotline number is 605-367-7007. You can also connect with them by visiting crimestopperssiouxempire.com.
Source: KSFY TV
More From KIKN-FM / Kickin' Country 99.1/100.5