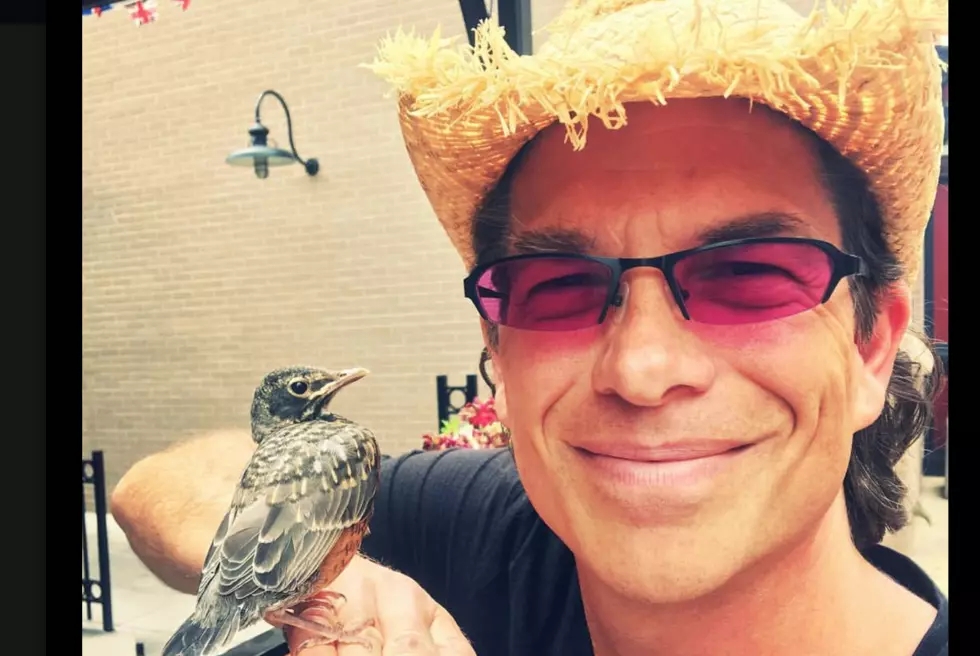 Stuff You Didn't Know About Kory from 'Kory and The Fireflies
Kory Van Sickle
Kory has been to over 40 U2 shows in 7 countries on 4 continents, been backstage, out with members, on their plane, witnessed a video shoot, watched a private screening of a movie with them, and even been on stage with them...twice!
If you've ever been to a Kory & The Fireflies show you know what a great big bundle of energetic talent they march onto the stage for every performance.
You may have seen a Kory & the Fireflies show as they have helped raise thousands of dollars for the Sioux Falls Children's Home Society over the years.  Or at any number of fun performances like at Ribfest, over in Okoboji, or sharing the stage with dozens of national acts.
Lead singer Kory Van Sickle is one of the nicest guys you'll ever meet.  If you are one of his fans, like me, you know this.
But there are a bunch of things I thought we didn't know about Kory.  So I asked, and Kory shared a glimpse of the road that he has traveled with and without the Fireflies.  Here's what Kory had to say:
"My first band CHILDREN had management in New York and played lots of great gigs there including multiple appearances in one of the world's most famous rock clubs, CBGB's. We also supported The Alarm, Squeeze, Edie Brickell and New Bohemians, The Fixx, The Wailers and others at universities in and around New York, New Jersey and throughout the East Coast. Lots of fun and lots of stories. Also recorded in Nashville for A&M Records and were written up in Billboard Magazine."
"After CHILDREN I had a solo career of sorts recording at Pachyderm in MN with talented musicians from Minneapolis and then I was off to London to work with Levi's for a second time and record with an 11 piece band they assembled for me. I performed live there too with the same group and came home reinspired and engaged to be married."
"KORY and the FIREFLIES was born the summer of '94 and started playing The Pomp Room, Skinners and lots of other local and regional clubs, colleges, outdoor festivals, and fairs."
"We headlined RibFest ten years straight (They'll be back for this years Ribfest) and lots of Arnold's Park July 4ths. We released Sparks Fly, Radiate (Samson Records/Gold Circle), Everyone and Love to Give with many memorable shows including the Kennedy Center, a Puerto Vallarta Radio Conference and a run with the Goo Goo Dolls.
"Luckily, enough people have connected with our music that we've had airplay in all 50 states and shared the stage with over 80 National Artists including Sheryl Crow, Neil Young, John Mellencamp, Collective Soul and many, many more. I'm forever grateful for my Firefly band mates, every Fan and of course our Families for what seems like a "lifetime" of support."
I asked Kory if there was one big memorable moment that came to mind.  He responded: "If I had to pick one thing that has been "most memorable", it would have to be the "feeling" of connecting with the crowd while playing "live". Honestly, there is nothing like it. So, if in some way, the "FIREFLIES" have ever made you feel good, or inspired, or loved, or touched your soul in some way, big or small, please know you've made us feel that times ten."
Oh...one more thing.  Check out this list of bands Kory has shared the stage with:
3 DOORS DOWN
38 Special
The Alarm
Alice Cooper
America
April Wine
Bacon Brothers
Big Head Todd & The Monsters
Blessed Union Of Souls
Blind Melon
Blood Sweat & Tears
BLUES TRAVELER
Bodeans
BOSTON
Bret Michaels
CHEAP TRICK
Citizen King
COLLECTIVE SOUL
Creedence Clearwater Revisited
Dave Matthews
Deep Blue Something
DEF LEPPARD
The Donnas
Edie Brickell and New Bohemians
Everclear
Fabulous Thunderbirds
Family Force Five
The FIXX
Foreigner
Gary Allan
Gin Blossoms
GOO GOO DOLLS
The Guess Who
HEART
Hinder
HOOTIE and the BLOWFISH
Huey Lewis
Jackson Browne
The Jayhawks
JOHN MELLENCAMP
John Waite
Jonny Lang
JOURNEY
Kansas
Kid Rock
Little River Band
Lou Gramm Band
Lynyrd Skynyrd
Mark Farner (Grand Funk Railroad) Mathew Sweet
Matthew West
NEIL Young
Night Ranger
Nine Days
The Outfield
Pat Benatar
Peter Frampton
RED
REO Speedwagon
Rick Springfield
Robby Krieger (The Doors)
Sebastian Bach
Seven Mary Three
SHERYL CROW
Sister Hazel
Smash Mouth
Snow Patrol
Soul Asylum
Spin Doctors
Sponge
Squeeze
Stroke 9
STYX
Sugar Ray
Susan Tedeschi
Switchfoot
Tesla
Three Dog Night
Theory of a Deadman
Tonic
Vince Neil
The Wailers
More From KIKN-FM / Kickin' Country 99.1/100.5