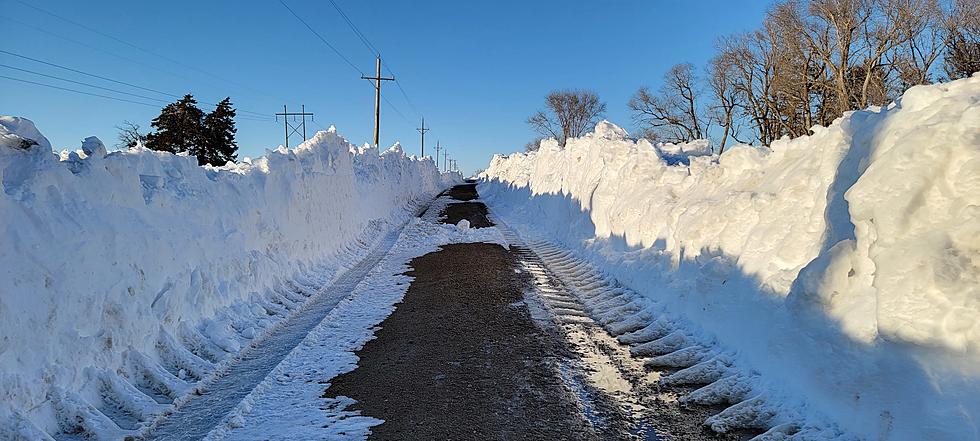 Driving Down Snow-Filled Country Roads in South Dakota
JD Collins-Townsquare Media
Winter 2022-2023 has been a doozy here in South Dakota and surrounding states. It started pretty early and hasn't seemed to want to let up.
Recently, I took a ride in the country with my friend Dan who farms and ranches in the Armour-Wagner area. The Souleks were getting set to move the cows from winter grounds to another yard for calving. In order to get them there they would have to move the cows about 3 miles down the back roads of South Dakota.
Normally, that wouldn't be a problem. This year, it required a bit more work. The cover photo shows where the county came with a blade and a wing. Some of the other secondary roads haven't been opened up, so some locals have used a payloader to blaze a trail.
The good news, the cattle have wised up and will most likely drive easier and prefer to walk on firm ground that doesn't have deep snow. We'll have an update for you on the cattle drive later.
How about you? Have you had to clear back roads in order to get to hard-to-reach places this winter? If you have we would like to hear from you. You can email me anytime. jdcollins@kikn.com.
Life on a Cattle Ranch in Western South Dakota
Life is different out in the country. One look at the photo from Robin Bickel and you quickly realize that a workday is quite different as well, after all, she lives out west in
South Dakota
Cattle Country.
Robin Bickel took time to tell
KIKN Country
a little bit about her
life out west
and
life as a woman, working outdoors with animals and nature in God's Country.
Bickel lives
and works
on a cattle ranch operated by herself, her father, Jack, and his brother Keith. How far out in the country is she? How does 50 miles west of Mobridge, South Dakota sound? Yep, mountain time
out there.
Life is so different in
Sioux Falls
, South Dakota compared to what our friends on the farm and ranches deal with. It's a half-mile to the grocery store for our family. For Robin, it's 17 miles. However, it's a quick step out her door and she's right in the middle of where a lot of the groceries come from.
35 Movies That Take Place in South Dakota
When it comes to
South Dakota
and Hollywood, we've seen our fair share of films that have used our state as the backdrop for a number of productions over the years. They may not have always filmed here, but movie folk love to set stories here.
According to
IMDb
, it all started with
Courtin' Wildcats
, a 1929 film which, like so many of the 29 films on this list, is a Western set in the time before South Dakota became a state in 1889.
More From KIKN-FM / Kickin' Country 99.1/100.5