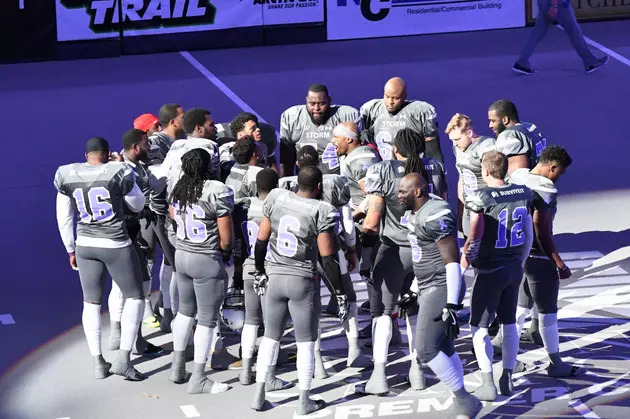 Sioux Falls Storm Officially Join the Champions Indoor Football League
Courtesy Nate Wek, South Dakota Public Broadcasting
It was referenced as the worst kept secret, but the Sioux Falls Storm are leaving the Indoor Football League for the Champions Indoor Football League.
Storm owner Todd Tryon, alongside head coach Kurtiss Riggs held a press conference on Wednesday (August 30) to announce the move. The CIF gives the Storm the opportunity to reunite rivalries with teams such as the Sioux City Bandits and Omaha Beef.
Sioux Falls is now the 14th team in the CIF, but Wichita Falls is scheduled to also join the league with an announcement coming in the next week. The league will feature a 12-game schedule and will run from the end of February to the end of June.
It might be a different look for the Storm, however, next season. Tryon says that there are some roster restrictions that they had to agree to, but the players pay will end up being about the same as the IFL.
A 2018 season schedule is currently being constructed. The league hopes to release the season schedule within the next few weeks.
More From KIKN-FM / Kickin' Country 99.1/100.5