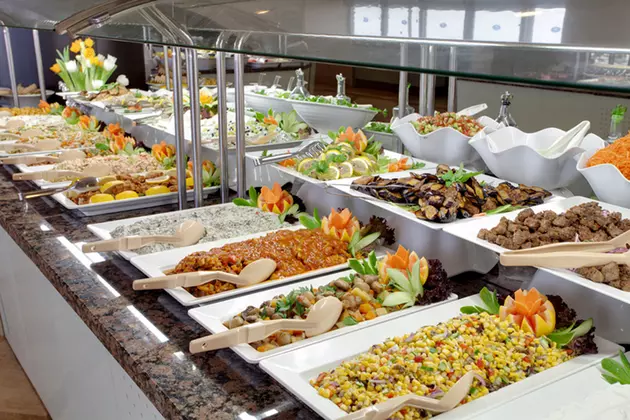 Mother's Day is Sunday, May 13. Here are Some Restaurants in Sioux Falls Serving Mother's Day Brunch.
sandr2002/Thinkstck
It could be the most important day of the year - Mother's Day! Mom's work hard all year long. They have so many responsibilities and very little thanks. Show Mom how much you appreciate everything she does by giving her a day off. Take her and the family out for Mother's Day brunch. There are several restaurants in Sioux Falls serving a special brunch on May 13, 2018. We have a list of several in the Sioux Empire. If you don't see your favorite on the list, just call and ask or check out their Facebook page.
Many restaurants will be accepting reservations and it's strongly recommended you call early.
Granite City Food & Brewery at 2620 S. Louise. Call 605-362-0000 for reservations.

Enjoy your brunch favorites like signature caramel rolls, eggs benedict, Rum Chata French toast, waffle station, omelet station, carved prime rib, apple-stuffed pork loin, breakfast items and more.

6211 South Old Village Place (69th and Western). Call to make a reservation at 605-271-7170.

Brunch includes eggs, sausage, French toast, bacon and leek egg bake, muffins, fruit, strawberry salad, champagne chicken, and much more! Plus every adult brunch comes with a complementary Mimosa!

Grille 100 at the Holiday Inn City Centre at 100 West 8th Street. Call 605-339-2000 for reservations.

Enjoy your favorite breakfast and lunch favorites.

Morrie's Steakhouse at 2507 S. Shirley Avenue in Sioux Falls. Call 605-362-8125 for reservations.

Mom will love being pampered with an exquisite dinner at Morrie's. She'll love anything on Morrie's

menu

.

2020 West Russell Street, Sioux Falls. Call 605-331-2050 for brunch reservations.

Bacon and jumbo sausage links, baked ham, Bourbon cranberry salad and caesar salad, Bourbon glazed salmon, caramel bread pudding, chef carved prime rib, fresh fruit, french toast, fresh vegetable, mashed potatoes, parmesan hash browns, sausage hash, sausage rigatoni, scrambled eggs, scrambled eggs with ham and cheese, tater tot hot dish, variety of doughnuts, pastries, desserts, vodka chicken and more.

Hibachi Grille and Supreme Buffet at 1100 West 41st Street.  Call 605-335-3388 with questions.

South Dakota's largest buffet featuring Chinese, Japanese and American cuisine.

Royal Fork Buffet at 4610 West Empire Place. Call 605-361-1094 with questions.

Enjoy several hot entrees, a build your own salad bar along with prepared salads, and homemade soups. Plus Belgium waffles and a dessert bar.

Grand Falls Casino in Larchwood, Iowa.

Mothers receive a free carnation while they last. Enjoy a Carving station featuring Rosemary Crusted Prime Rib and Cranberry Glazed Ham. The Main Buffet includes roasted garlic mashed potatoes, Parmesan garlic roasted asparagus, biscuits and gravy, bacon, sausage, beer battered shrimp, broasted chicken, fried fish, slow cooked pot roast Diane, quiche Lorraine, Florentine eggs Benedict, baked fish Suzette, pommes Anna, tortellini carbonara, egg bake, salad bar, peel 'n eat shrimp, crab, mussles, smoked salmon, dessert bar, and more.

Grille 26 located at 26th and Western. Call 605-444-1716 to reserve a table for 5 or more.

Treat Mom to an array of breakfast and lunch favorites.

All Day Cafe is located in the Western Mall at 2101 West 41st Street. Call 605-274-7711 to make a reservation.

Treat your Mom to a Mother's Day three course feast including Salad Buffet Bar, choice of plated entree', and Chef's Dessert Buffet Bar.

All Market Grille locations in Sioux Falls

Enjoy traditional brunch favorites, a create-your-own eggs Benedict and omelette station, and more.

2801 S. Louise Avenue in Sioux Falls. 605-362-2610.

Enjoy your favorite breakfast items and fresh mex dishes.

901 West Russell Street. 605-338-6078

Enjoy a Mother's Day Fiesta Brunch that includes your favorite Mexican dishes, breakfast favorites, fresh fruit, a taco bar, homemade desserts, and more.

The Roll'n Pin is located at 3015 West Russell Street. Call 605-339-9191 for more info.

Breakfast Buffet 8:00 AM - 10:30 AM and Brunch Buffet from 10:30 AM - 1:30 PM.

Enjoy your favorite breakfast items like biscuits and gravy, eggs Benedict, bacon, sausage, omelets, crepes, french toast, fruit and more. The Brunch Buffet includes all of the breakfast items plus maple glazed ham, apricot glazed ham, pot roast, meatballs, Parmesan garlic mashed potatoes and more.

Featuring breakfast favorites like scrambled eggs, hash browns, bacon, sausage, biscuits and gravy, cinnamon rolls and blueberry muffins. The Mother's Day brunch will also feature roast beef, potatoes and gravy, corn, fresh fruit, salads, desserts and much more.

The first 100 moms get a free carnation.

211 Stofferean Drive in Humboldt, SD

Salad bar, dinner entrees, breakfast items, desserts and more.

2401 S. Carolyn Avenue, Sioux Falls.

Call 361-6328 for reservations.

Mother's Day brunch will include their rodizio service, plus salad bar, breakfast bar and desserts.

1716 S. Minnesota Ave. - Sioux Falls

Call 339-3322 for reservations.

Serving a delectable menu of your favorite breakfast and dinner items. Mom will love the food and atmosphere at Kaladi's.
More From KIKN-FM / Kickin' Country 99.1/100.5