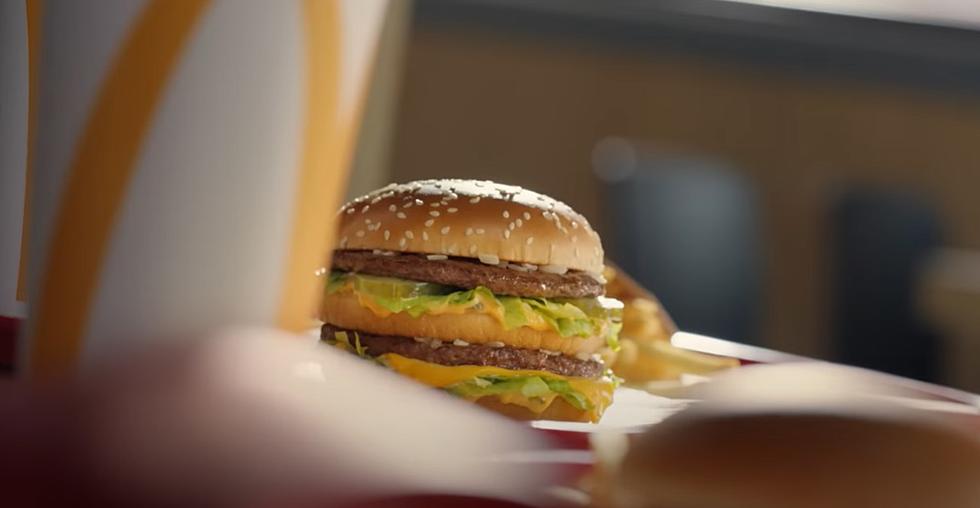 McDonalds Announces A HUGE Change To Its Menu [VIDEO]
YouTube via McDonald's
As I drove home from work yesterday at around noon, I decided to stop off and get something quick to eat. I was hungry but didn't want to wait at a sit-down restaurant. I wanted something quick, greasy, and bad for me. It was a Monday, after all. As I approached Marion the golden arches of McDonald's appeared. Yes, a triple cheeseburger fits the bill. It's ironic on the day when I wanted a McDonald's hamburger is they same day the fast food chain announced they were completely changing the way it makes them.
Let's call it the Big Mac makeover. People magazine reports that the makeover will actually extend to all of McDonald's classic burgers, Big Macs, McDoubles, and even the plain old hamburger. So how will the new McDonald's hamburgers be different? The buns will be softer, onions will be added to the burgers while they're cooking on the grill. The cheese will be melted even more. And you'll get even more Big Mac sauce if that's your thing.
Here is the big question. Do any of these changes really make a difference when it comes to a McDonald's hamburger? According to the folks at People, the answer is a resounding YES! A staff member who got to try out one of the new sandwiches said that "the difference between the OG double cheeseburger and the new and improved version are actually huge." She described the burger as tasting like it came off your own grill. Another person who tried the new and improved Big Mac described it as a "messy pub burger."
Perhaps McDonald's has a hit on their hands. The new and improved burgers are already popular overseas and People reports that the rollout in the U.S. has already begun in some West Coast cities. The rest of us will be able to try them sometime in 2024.
A McDonald's burger that really tastes good. What an amazing time to be alive.
Iowa's 10 Most Popular Fast-Food Restaurants
A Look Inside the New Blind Pig in Monticello
Take a sneak peek look inside the brand new Blind Pig Monticello, located inside The Jitney's former home!
More From KIKN-FM / Kickin' Country 99.1/100.5