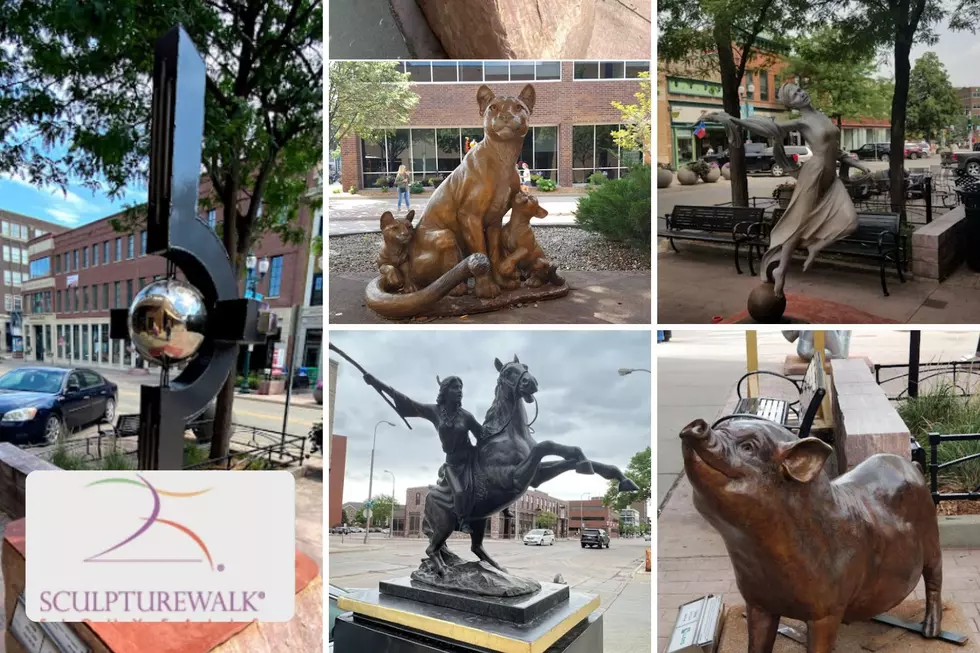 Got Art? Sioux Falls Looking for 2023 SculptureWalk Applications
Google Maps/Dakota News Now (with permission)
Calling all artists, the city of Sioux Falls wants to see your best stuff.
The SculptureWalk is gearing up for its 20th year and the city of Sioux Falls is on the hunt right now for a few good artists who want to show off their sculps.
Applications are now being accepted for the 2023 season. Professional and amateur sculptors of all backgrounds are encouraged to apply.
As Dakota News Now reports, the SculptureWalk features more than 60 art exhibits that line the streets of downtown Sioux Falls along Phillips Avenue, over to the East Bank along 8th Street, under the Arc of Dreams, and in front of the Washington Pavilion.
Each spring, the city installs a new set of sculptures on loan from their creators. A number of the sculptures on display end up being sold at the end of the exhibit cycle.
Every year, the city of Sioux Falls ends up buying the sculpture that wins the People's Choice award that is selected during a voting process that is held by visitors casting ballots throughout the summer months. The winning sculpture from the People's Choice awards is permanently installed somewhere throughout the city of Sioux Falls.
Last year Sioux Falls received 180 different artist applications...
Curator Cody Heinrichs told Dakota News Now, "Last year, we enhanced the call for art by adding an online application, and the 180 individual submissions were a new record. About 25 percent of this year's exhibit was created by artists new to SculptureWalk, in addition to submissions by veteran artists who have displayed here for many years. We are excited to see next year's submissions and celebrate the organization's 20th exhibition."
Over 1000 different sculptures have been installed since the SculptureWalk got underway in 2003.
How do you apply?
To have your work of art considered for the 2023 Sioux Falls SculptureWalk, artists must submit the completed application, photos of up to five sculptures, and an artist statement by the cutoff date of October 1st, 2022.
Artists can obtain an application and get complete submission details here.
Source: Dakota News Now
TRENDING FROM RESULTS-TOWNSQUARE MEDIA SIOUX FALLS:
New Sculptures Added In Sioux Falls For Sculpture Walk - May 2021
The
Sioux Falls SculptureWalk
is known to be the largest outdoor exhibit that features sculptures year-round on Phillips Avenue and throughout other parts of the city. Well over 800 sculptures have been on display throughout the history of the
Sioux Falls SculptureWalk
.
If you've been walking around Downtown Sioux Falls the last couple of days, you've probably have noticed the latest editions to this year's
Sioux Falls SculptureWalk
. My friend Miranda and I sure enjoyed seeing the new sculptures!
Every year, we walk around to admire the new artwork in the city. It was just a coincidence we were in town when some new sculptures were unveiled!
Check out these exciting new additions to Downtown Sioux Falls!
The Ultimate Sioux Falls Visitor's Guide: A to Z
Sioux Falls
has lots to explore; fun stuff for the whole family, food of every kind, educational opportunities, and more! If you have out-of-town guests visiting, show them around our city. Eat at places they've never eaten. Take them to places they'd never go. Take some great photos to post on social media (
and don't forget the hashtag #HiFromSiouxFalls).
We've even listed some cool hotels where they can stay if you don't have the room.
It's a pretty awesome city and that's why we think you should come and visit. If you're coming on business or pleasure, we've put together a list of places to go and things to see. We know you want to explore the attractions the city is known for like Falls Park, the Arc of Dreams, and the Sculpture Walk, but there's a lot more to see and do than just the touristy (that's really a word) stuff. The best places to go are where the locals go and we have a not your average, ordinary visitor's guide.
Here's a list of over 100 things to do and places to go in Sioux Falls.
Click
HERE
for a list of all the places we mention and links to each one. Print it out or save it to your phone and use it as a reference when you're visiting. See you soon!
More From KIKN-FM / Kickin' Country 99.1/100.5