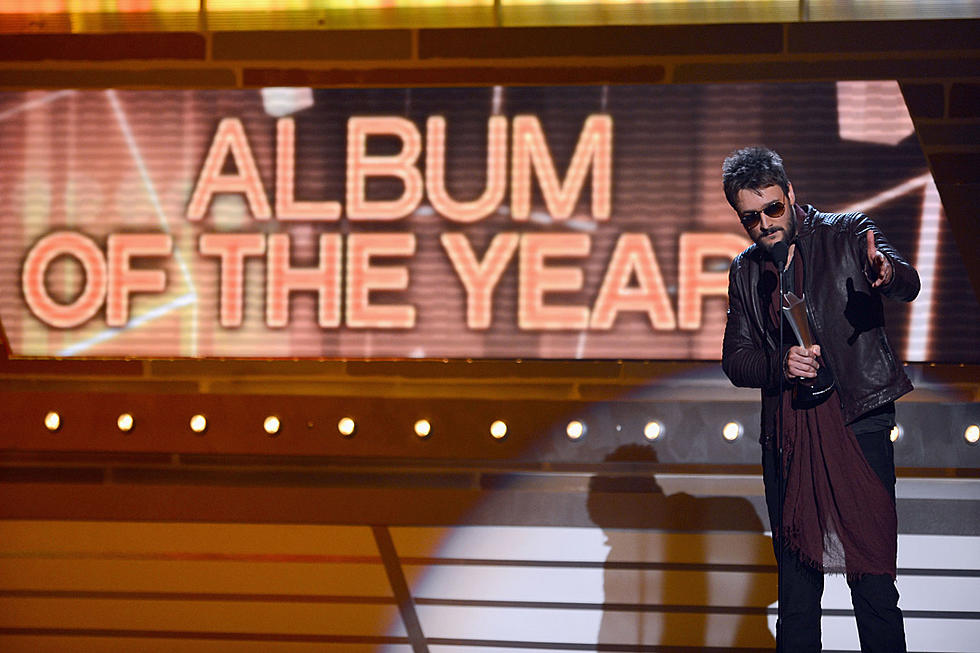 Counterpoint: The Greatest Eric Church Album Is Obviously 'Chief'
Ethan Miller, Getty Images
Great albums have great songs, and Eric Church's Chief album has one of the 20 best songs of the 21st century. But eve beyond "Springsteen," the Chief's third studio album is his most consistent album to date and the starting point for anyone curious about his music.
Dangerous guitar licks drive the melodies of many of the most made-for-the-stage moments on the Jay Joyce-produced, 11-song masterpiece. "Creepin',' "Drink in My Hand" and "Keep On" charge forward from a lion's cage that'd been waiting to be opened and accepted on a mainstream level for more than five years. The next three cuts ("Like Jesus Does," "Hungover & Hard Up" and "Homeboy") dip in tempo, but showcase Church's ever-improving storytelling chops. That leaves what could be considered Side B — five of the best album-closing songs in recent country music history. No other Church album finishes with such strength — and at times, understated — bravado.
You need not be a Church superfan to recognize the titles. "Country Music Jesus" foreshadows some of the heavy metal and blues influences he'd explore more deeply on his next two albums. "Jack Daniels" is a well-crafted campfire story anyone over 30 can relate to too well. "Springsteen" is a lesson creating art for a mainstream audience, and "Over When It's Over" has become an overused expression of finality in life, journalism and country circles nationwide. Be honest, you've thought about tagging some imaginary piece of well-written emotion with "We had it in the air but we just couldn't land it" at some point or another, haven't you?
"I'm Gettin' Stoned" is among a small group of play-on-words songs in Church's catalog ("Cold One," "Record Year") that by this writer's ear don't stack up to his more serious, smartly-crafted country-rock portraits. There's just not the same emotion in this sub-category, but they're inevitably chosen as radio singles, which leaves many Church fans frustrated.
These Songs Actually Make Fun of Country Music, Oops!
Why this album is important for Church matters little in this conversation about his best album, but it's still worth noting that this was his first breakout album. "Homeboy" was a difficult single to wrap your arms around, but "Drink in My Hand" was as sure of a bet for a No. 1 hit as anything he's ever released. Then came "Springsteen" — the career changer — and the dark and lyrically complex "Creepin," then the simple, but poetic love song "Like Jesus Does." Keep in mind that as a format we were on the brink of bro-country, an era that rewarded white-bread lyrics about trucks and pretty lil' things in tight shorts. Church didn't just survive, he thrived as the rest of the world was about to start drowning in a sea of cornfield whiskey sips.
Desperate Man is slated for Oct. 5, and it's likely to be a worthy candidate for consideration on this topic. It'd need to be as consistent as Chief, however. Mr. Misunderstood isn't, with jumps from defiant, blues-soaked country-rock songs to coffee shop fare between sides. The Outsiders is delightfully all over the place — if you find any two people who agree on the best song from his 2014 album, take a selfie with them, because they're more rare than an Eric Church interview.
Longtime fans may argue for Sinners Like Me, but while the raw materials were present on Church's debut and there were some great sentiments he'd build from ("Lighting"), he'd not yet put it all together. Carolina is a hometown favorite that may qualify as No. 2 for this writer (I spent eight years in Raleigh), but Taste of Country has always considered commercial success in evaluating quality, and this album doesn't have it. Plus Church himself has expressed regret over two songs on his 2009 album, "Love Your Love the Most" and "Hell on the Heart."
This month's Point / Counterpoint is bound to stir intense debate among Church fans, and many will call both publications foolish for their selection. Not lost in our internal debate is that Church has five worthy albums for consideration. We entered a singles-based era of country commercialism that some artists (Sam Hunt and Sheryl Crow, for example) have capitulated to. That's a shame because real lasting fans are made in the album cuts and the pauses that separate verse and chorus, ballad and rocker and emotions.
The Boot and Taste of Country's collaborative Point/Counterpoint series features staff members from the two sites debating topics of interest within country music once per month. Check back on Aug. 20 for another installment.
These Are the Best Songs of the 21st Century!
More From KIKN-FM / Kickin' Country 99.1/100.5