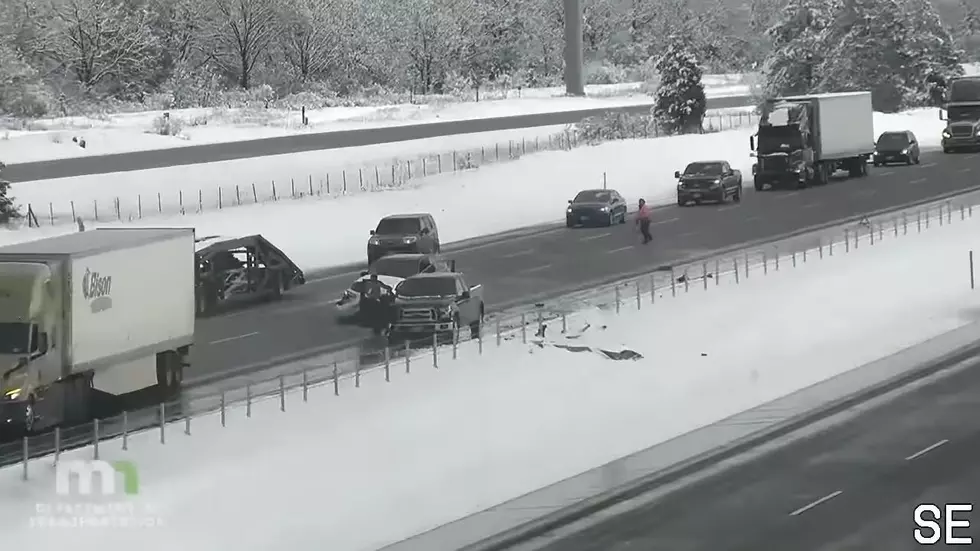 Check Out What Strange Thing Caused This Minnesota Pile-up
National Traffic Camera News/YouTube
A traffic cam video out of Minnesota shows how quickly conditions can change when driving. When you think of the main cause of pile-up accidents, the weather seems to come out on top. There are also other triggers like inattentive drivers or someone swerving to miss an object on the road. However, it was a mechanical failure that caused a pile-up on Interstate 94 in Minnesota.
As you'll see in the high-definition traffic cam video below, a pick-up truck with a plow and pulling a trailer created a plume of smoke. That plume created a cloud that blocked visibility. That combined with highway speeds created a dangerous situation for drivers as they had to quickly adjust to the conditions.
Some drivers were able to pass through the cloud without any issues. Other drivers weren't so lucky. There were no reported major injuries, but seven vehicles were damaged in the incident. Police said that a radiator hose on the truck failed and the hot coolant hitting the cold air created a dense and blinding fog.
MOST RECKLESS DRIVERS' VEHICLES
We've all seen 'em.
That souped-up vehicle sitting next to you at the red light or blowing your doors off on the interstate.
When you lay eyes on one of those beauties, the thought runs through your mind - 'Man, I would get in SO much trouble behind the wheel of that bad boy'.
And you're probably right. But which vehicles on the road today are causing drivers to take the most risks?
More From KIKN-FM / Kickin' Country 99.1/100.5