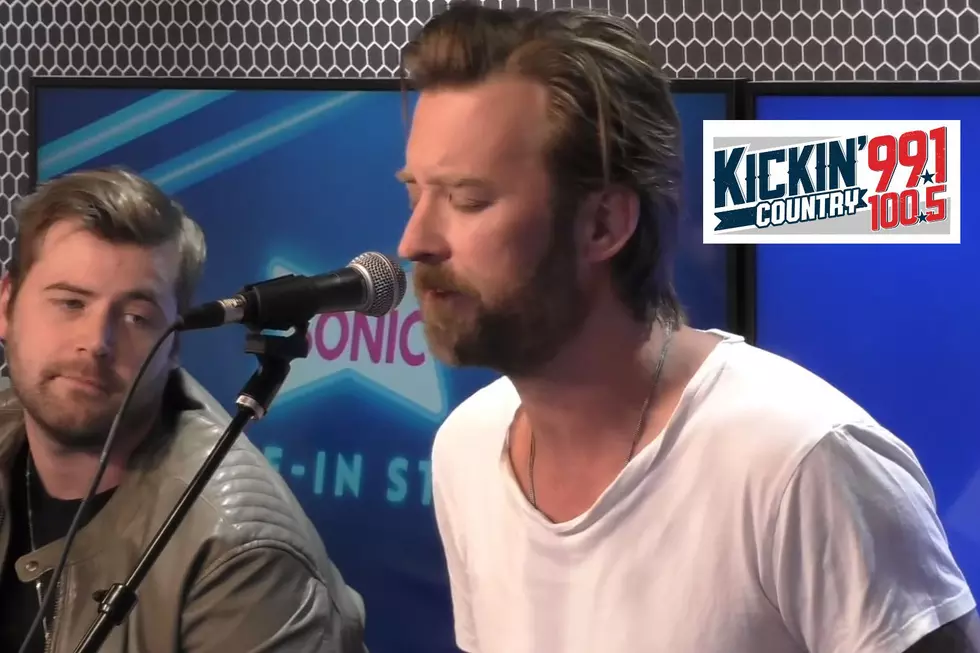 Charles Kelley Talks Sobriety and New Song with Bobby Bones
YouTube-Charles Kelly of Lady A
Charles Kelley from Lady A stopped by The Bobby Bones Show to talk about his journey to sobriety, his new song "As Far As You Could," and more!
Hear The Bobby Bones Show weekday mornings on The New 99-1 AND 100.5, Kickin' Country.
During the last three years Kelley's drinking escalated to a point where it became obvious, he needed help. He had tried multiple times before to stop but it never stuck. He was no longer having fun and was using alcohol as a crutch. He almost lost it all, his marriage was shaky, his band, Lady A, was concerned, and he knew it was a matter of time until something awful happened. He asked himself why he was waiting for something bad to happen instead of doing something to prevent it. That's when he knew it was time to get help. Then, in August of 2022, Lady A announced they were putting their tour on hold in order to support Kelley on his sobriety journey. Fast forward to today, he is celebrating being sober for six months and says everything has gotten infinitely better in every aspect of his life.
Kelley has a whole new mindset. He wakes up every morning and feels more present in his life and can better be there for his wife and kid. He's been working out every day and lost 15 pounds as well. And his relationship with his wife has done a complete 180. That was his first goal in doing this, to save his marriage and be there for his son. Then the next challenge was figuring out how his bandmates would trust him moving forward. It took him a few months to realize that he needed to do this for himself if he really wanted to stick with it. That's when he started feeling better, gained his confidence back, and felt like he had purpose again. That's where his new song "As Far As You Could," came from. He wanted his journey to mean something.
Kelley said he had a "good run" with drinking and acknowledges for better or worse, it's a part of his story when he reflected on the last 25 years of his life. He's not sure if he ever would've moved to Nashville if he didn't have a drunken night and decided to go for it. Or when he had a little liquid courage and met his wife. He knows there is nothing wrong with that, but for him, he always took it too far.
He's been blown away by how many people can relate to his story and the new song even if they aren't addicts themselves, they know someone who is, and addiction touches everyone surrounding them. When he wrote "As Far As You Could" he wasn't sure what kind of journey the song would take. He just knew it felt authentic and true to him, and it was speaking to people and that's why he got into writing songs. The title came from when he went away to work on himself, and he wrote that line down as a goodbye letter to alcohol. He wrote, "Goodbye whiskey, go to hell. You've taken me as far as you could," and thought it was a good title. When he went into the writing session with co-writers Jimmy Robbins and fellow Lady A bandmate Dave Haywood, he knew he just wanted to write something that was honest. He first pictured it to be a song for Lady A, but Hillary Scott said she didn't want the band to take away his personal story or have it be interpreted in any other way, and felt it was a song just meant for him so what he's saying can truly be heard. His story needed to be told in a singular voice since it's such a singular journey for others. He's hoping the song can live alongside all their work as he continues to work on new music with Lady A too.
Haywood and Kelley have been friends since they were kids, and he is proud of how far he's come. Haywood said he's taken all that energy and put it into something good. The song has become more than just a song. He's proud to be standing by Kelley through it all.
The goal with "As Far As You Could" is more significant than just putting new music out, it's about needing to reach people. It's been an up-and-down journey as an artist for Kelley with things that work and don't work. A big part of the work he's been doing is chasing his art and letting go and putting his stock in his happiness in the process and not the outcome. He knew he couldn't hold in the powerful message anymore, and that's why he wanted to release the song now. He needed to get it off his chest and it's already taken on a journey he didn't expect. His wife gets a lot of messages from other wives who are going through similar situations. It's given her purpose and she's doing so much work around it; it's brought them together in a whole new and better way. Whatever journey the song takes, he just wants to let go of it and have fun.
More From KIKN-FM / Kickin' Country 99.1/100.5