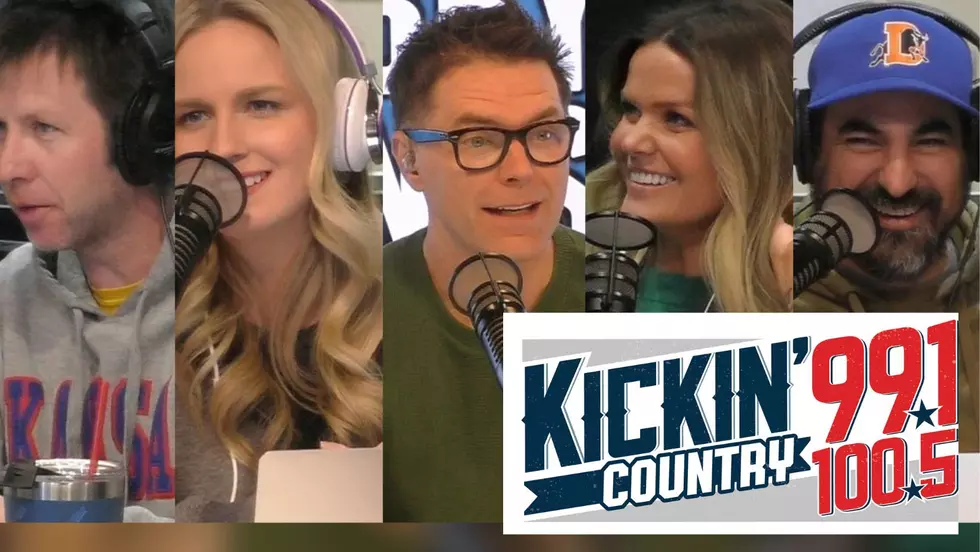 Bobby Bones Awarded for Raising Over $20 Million for St. Jude
The Bobby Bones Show on The New 99-1 and 100.5, Kickn' Country!
Listen to The Bobby Bones Show, weekday mornings from 5:00 AM to 9:00 AM on Kickin' Country, 99-1 AND 100.5.
Bobby Bones and The Raging Idiots' annual Million Dollar Show for St. Jude Children's Research Hospital happened last night in Nashville, Tennessee at The Ryman to a sold-out crowd! The concert raised money for St. Jude and brought some epic surprises.
Bones, Eddie and Walker Burroughs kicked off the show before the first special guest Randy Houser took the stage to perform his song "Like A Cowboy." Then Dierks Bentley came out in place of Tracy Lawrence, who was originally scheduled to perform. Lawrence got bronchitis and wasn't able to make it, so Bentley stopped by to perform Lawrence's big hit "Find Out Who Your Friends Are," and one of his own songs. Madeline Edwards took the stage next for her first ever time at The Ryman and performed a few songs, one of them being her hit "The Wolves."
Scott Stapp of Creed was one of the huge surprises of the night. He got the crowd on their feet several times with his performance of "Higher" and "My Sacrifice." Bones shared that Stapp stopped by The BobbyCast and that's how the two of them became friends. Then it was time for Deana Carter to take the stage, she brought all the 90s nostalgia with the performance of her hit song "Strawberry Wine." Michelle Branch performed a few of her own songs and then Jessica Harp joined her on stage for The Wrecker's first performance in over a decade. Branch and Harp told Bones that the main reason they were reuniting was because of his ask to perform for St. Jude.
Then another first-timer to The Ryman, Daves Highway took the stage. They performed their song "Why do We Need Em" as well as a cover of Dolly Parton's "Jolene." Amy said Daves Highway and Edwards were both very thankful for Bones asking them to perform for the show and getting to experience The Ryman for the first time. Dave Haywood and Charles Kelley of Lady A stopped by to perform Kelley's new song about his sobriety journey "As Far As You Could," they also brought out St. Jude patient Addie Pratt to perform an emotional song together.
Parker McCollum got the crowd screaming next with all of his love songs including "To Be Loved By You." Morgan Evans showed up next for a surprise performance of his song "Over For You" before Jake Owen took the stage as the final surprise performance of the night. He closed the night with three of his songs, including "Barefoot Blue Jean Night." Bones shared that backstage, someone went up to Owen's daughter Pearl and told her they knew her dad since he was singing "Barefoot Blue Jean Night" and Pearl told him "He still sings it."
The night ended with Owen surprising Bones with a presentation of an award. Last Night's Million Dollar Show eclipsed $20 million raised for St. Jude Children's Research Hospital for Bones. He admitted he was super uncomfortable during the surprise, especially because it was being filmed for TV. He wasn't sure what face to make during the whole presentation.
More From KIKN-FM / Kickin' Country 99.1/100.5