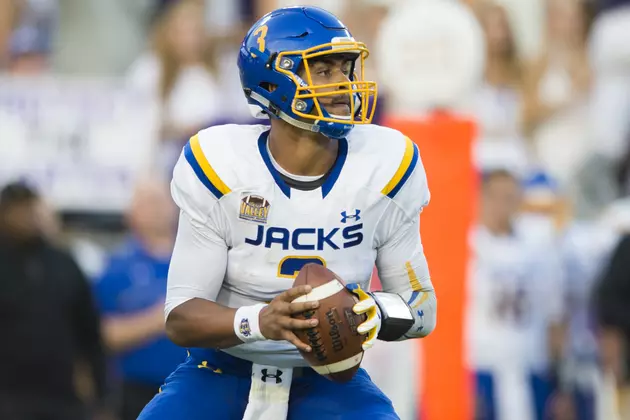 South Dakota State Dominates All-Missouri Valley Conference First Team
Getty Images
Reigning Missouri Valley Football Conference co-champion South Dakota State leads the way with nine All-MVFC first teamers on the pre-season ballot, released Monday (July 24).
Seven of the Jackrabbits nine selections come on the offensive side of the ball, with quaterback Taryn Christion, wide receiver Jake Wieneke, tight end Dallas Goedert, running back Brady Mengarelli, fullback Kane Louscher, and offensive lineman Charlie Harmon and Jacob Ohnesorge grabbing first team honors.
Christion, a junior, is coming off a SDSU record setting season with 3,714 passing yards and 30 touchdown passes.
Wieneke and Goedert, both seniors, were Christion's favorite targets in 2016. Goedert set a Jackrabbit single-season record with 92 catches, 1,293 yards, and 11 touchdowns last season, earning All-American honors.. Wieneke was an All-American for the third straight season after catching 78 passes for 1,316 yards and matching his own school record with 16 touchdowns.
Mengarelli, a senior, led the team in rushing each of the past two seasons, including 754 yards in 2016. He also had 34 catches for 333 yards.
Defensively, lineman Kellen Soulek and linebacker Christian Rozeboom are on the first team. Soulek, a senior, led the team in 2016 with 10 tackles for loss and 7.5 sacks. Rozeboom, a sophomore, was the Misoouri Valley's Freshman of the Year last season,  after racking up a team-best 132 tackles and adding three sacks and a pair of interceptions.
SDSU punter Brady Hale in on the honorable mention team.
South Dakota has a trio of honorable mentions - quarterback Chris Streveler, defensive back Danny Rambo, and long snapper Brandon Godsey.
2016 co-champ North Dakota State had seven first-team selections.
2017 Missouri Valley Football Preseason Team
QB-      Taryn Christion, SDSU
RB-      Lance Dunn, NDSU, Steve McShane, WIU, Brady Mengarelli, SDSU 
FB-      Kane Louscher, SDSU
WR-     Malik Earl, MSU, Spencer Schnell, ILS, Jake Wieneke, SDSU
TE-      Dallas Goedert, SDSU
OL-      Jacob Judd, WIU, Charlie Harmon, SDSU, Vitas Hrynkiewicz, YSU, Jacob Ohnesorge, SDSU, Austin Olsen, SIU, Justin Spencer, YSU
DL-       Colby Isbell, MSU, Dalton Keene, ILS, Greg Menard, NDSU, Kellen Soulek, SDSU, Nate Tanguay, NDSU
LB-        Armand Dellovade, YSU, Nick DeLuca, NDSU, Jared Farley, UNI, Christian Rozeboom, SDSU, Brett Taylor, WIU
DB-       Tre Dempsey, NDSU, Robbie Grimsley, NDSU, Davontae Harris, ILS, Alec Kocour, ILS, Malcolm Washington, UNI
P-          Mark Schuler, YSU
RS-       Deion Holliman, MSU                                                                                 LS-        James Fisher, NDSU
PK-       Jerry Nunez, INS
2017 Missouri Valley Football Preseason Team
Honorable Mention:
QB -- Chris Streveler, USD; Sean McGuire, WIU
RB -- Trevor Allen, UNI; LeMonte Booker, INS
FB -- Hans Carmien, SIU
WR -- Connor Iwema, SIU; Darrius Shepherd, NDSU; RJ Urzendowski, NDSU
LS -- Brandon Godsey, USD
OL -- Coleman Clanton, MSU; Austin Kuhnert, NDSU; Cal Twait, UNI
PK -- Sean Slattery, ILS
DL -- Khalen Saunders, WIU
LB -- McNeece Egbim, MSU; Quentin Moon, WIU
DB -- Elijah Campbell, UNI; Jeremy Chinn, SIU; Craig James, SIU; Danny Rambo, USD
P -- Brady Hale, SDSU; Sam Kuhter, UNI
RS -- D.J. Davis, SIU; Jalen Rima, UNI
More From KIKN-FM / Kickin' Country 99.1/100.5