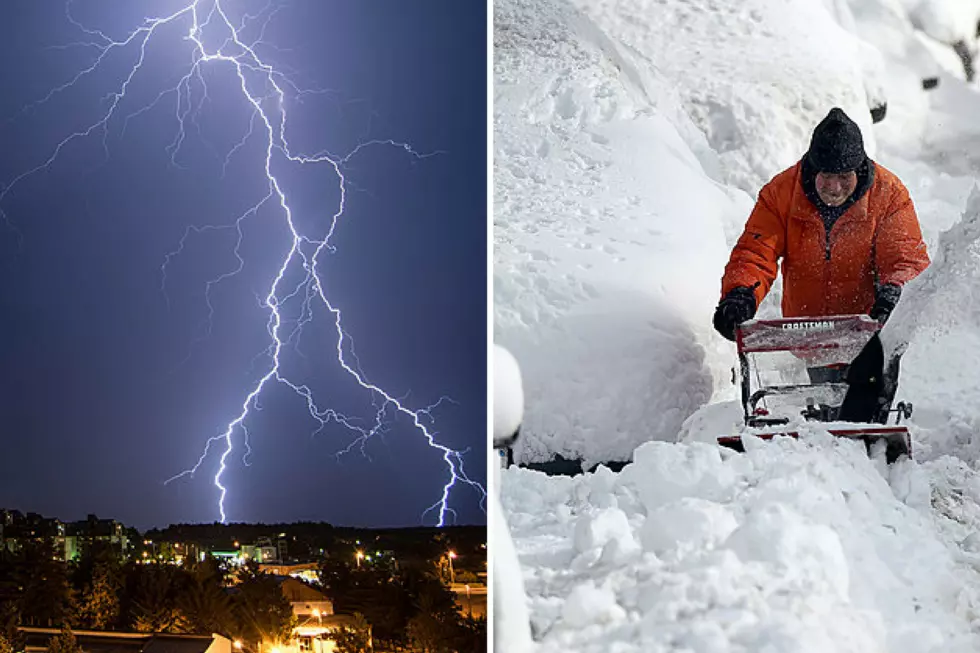 Should We Check Mother Nature's Sanity or Just Write It off as Manic Moment?
Getty Images
As if things couldn't get any weirder, severe thunderstorms precede blizzard conditions in South Dakota and gusty winds knocked out power in Minnesota.
On one hand, State offices close down and Interstate 90 closed early today (April 13) from Murdo to Rapid City, South Dakota. On the other hand, the National Weather Service reported winds gusting between 70-80 miles per hour near Wilmont, Minnesota which is about 60 miles east of Sioux Falls. Plus power poles were toppled near Magnolia, Minnesota according to KSFY News.
Additional thunderstorms popped up during the late morning west of Sioux Falls that started dropping quarter to half-dollar sized hail in north central Nebraska near Butte. Those storms moved very rapidly into South Dakota toward Wagner, Armour and Delmont. The storm carried north toward Corsica and Tripp, with another group of storms that ran from Bridgewater and Emery north to Arlington.
To be certain this is not normal. However, this is not unprecedented. Let's recall October 4, 2013 when a tornado ravaged Wayne, Nebraska while thousands were without power in Rapid City and thousands of cattle died during the infamous Winter Storm Atlas.
Once it's done we can compare in to the three-day ice storm event from April 2013. A foot of snow in one day with powerful winds with it will have its own story to tell.
---
More From KIKN-FM / Kickin' Country 99.1/100.5