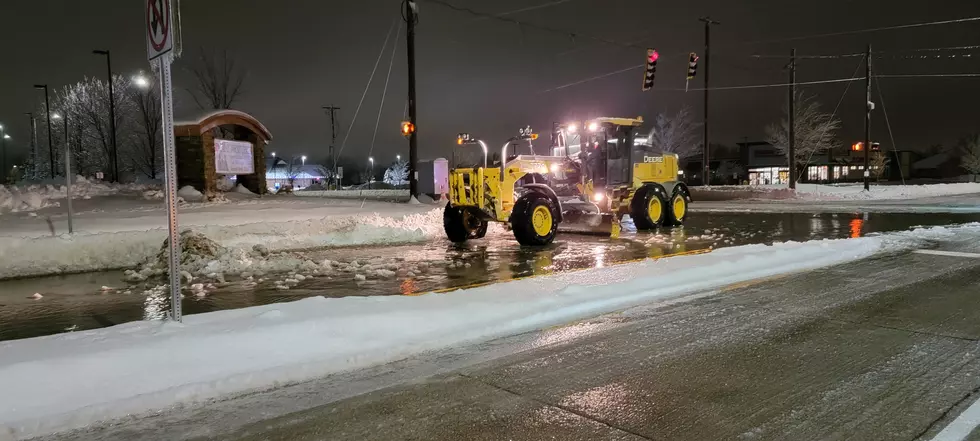 Ponding and Snow on Roofs Creating Problems in Sioux Falls
JD Collins
Sioux Falls woke up Tuesday morning to rain coming down. There's nothing strange about that in South Dakota, but when you factor in the calendar and the time of year, things complicate pretty quickly.
The Forecast from The National Weather Service says MORE RAIN is on the way;
Rain, mainly before 5pm. High near 35. Breezy, with an east southeast wind 20 to 25 mph, with gusts as high as 40 mph. Chance of precipitation is 100%. New precipitation amounts between a quarter and half of an inch possible.
Around my house, I noticed the driveway and sidewalks are the slipperiest this morning. I did have a bag of salt. I scattered some of the salt so I could at least walk down a portion of the driveway.
Driveways and sidewalks are flat-out hazardous this morning. Be careful!
Ponding is another issue
Last week 7 to 8 inches of snow blocked up street drains in Sioux Falls. Early this morning crews were out with heavy equipment working on hot spots, which were mostly intersections and flat sections here in town.
If you have a shovel and a strong back, you most likely know the trouble areas in your area. If you're able, you might be able to help your neighborhood by just getting that water started in the right direction.
Rooftops are presenting a challenge as well.
That 7 to 8 inches of snow we received last week, just sat there. On roofs, on trees. It just sat there. If you had Christmas lights up, and many people do, you couldn't use a roof rake to pull some of it down. So, some people have rainwater coming over the top of their gutters.
How about you? Additional Challenges?
The wind will pick up later and the power companies are standing by ready to help. They are asking that homeowners do what they can to be prepared. Keep your phones charged and flashlights and fresh batteries are encouraged.
Oh, then there are friends in the country, especially those dealing with livestock. We have a busy, busy couple of days coming up!
From Frybread to Pheasants - Here are South Dakota's Official State Things
Every state in our nation has chosen things that represent the state in one way or another to be official state things. Like a flower, or animal.
South Dakota
is no different.
The Mount Rushmore has a state flower. But did you know we also have a state tree and a state fish? Yes, we even have a state code.
MOST RECKLESS DRIVERS' VEHICLES
We've all seen 'em.
That souped-up vehicle sitting next to you at the red light or blowing your doors off on the interstate.
When you lay eyes on one of those beauties, the thought runs through your mind - 'Man, I would get in SO much trouble behind the wheel of that bad boy'.
And you're probably right. But which vehicles on the road today are causing drivers to take the most risks?
More From KIKN-FM / Kickin' Country 99.1/100.5