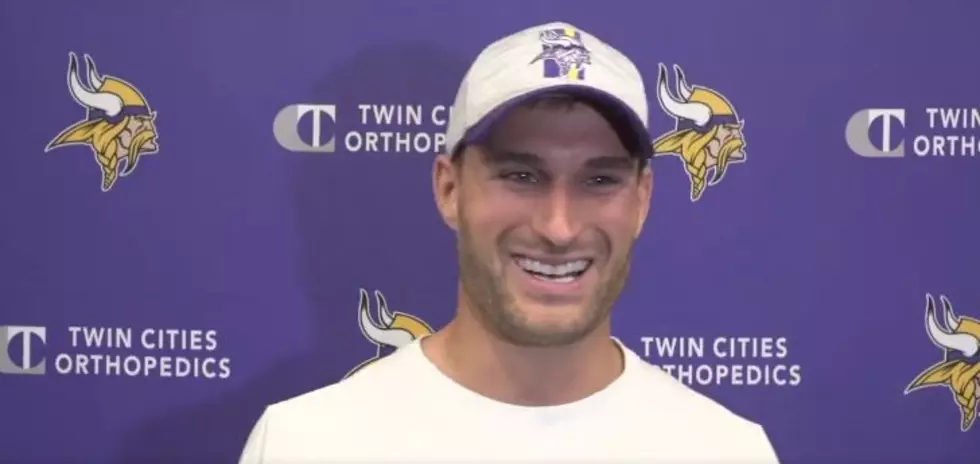 Minnesota Nice? We Should All Be The Kind Of Neighbors Minnesota Vikings QB Cousins Has!
Image Credit: @Vikings via Twitter
GOOD NEIGHBORS
I love my neighbors, but I'd really like to have a neighbor like this. Maybe I should be more like this neighbor! There are some people out there in the world that are just hard-working giving people, and they give and give and give even in their spare time.
KIRK COUSINS
Take for example Kirk Cousins neighbor. A guy named Jon Weber makes sure that Kirk Cousins has a shoveled driveway to come home to after a hard day's work with the Minnesota Vikings.
"If I had known that my neighbor across the cul de sac was Jon Weber. I would have paid double for my house," said Kirk Cousins.
Jon Weber is the kind of person we should all strive to be. He IS a huge Vikings fan, so can you imagine how he felt when he found out the quarterback for the Minnesota Vikings was moving into his neighborhood?
MINNESOTA NICE
Weber says that he tries to make sure his kids know that it is good to be a good neighbor, and whether your neighbor is a Viking or not, give 100% effort to whatever it is you are doing.
According to the article, Kirk Cousins is incredibly thankful to have a neighbor like Jon, who is knowledgeable about a lot of different things, so if he has problems with his house, he has someone he can count on in the neighborhood to help his family, while he is gone and working so much with his busy schedule.
STAYING IN MINNESOTA?
Will Kirk stay in Minnesota when his days with the Vikings are over? With a neighbor like Jon, it might make it hard to leave. Watch the video below for the story.
<iframe scrolling="no" frameborder="0" allowfullscreen webkitallowfullscreen mozallowfullscreen allow="autoplay; fullscreen" src="https://w3.mp.lura.live/player/prod/v3/anvload.html?key=eyJtIjoiRVBGT1giLCJ2IjoiMTE2Mzg1MyIsImFudmFjayI6Imx4UU1ONUo2bld1UmIzV3M5REZiSnF2YVVqSmEyNUFZIiwic2hhcmVMaW5rIjoiaHR0cHM6Ly93d3cuZm94OS5jb20vbmV3cy92aWtpbmdzLWZhbi1uZWlnaGJvci1tYWtlcy1zdXJlLWtpcmstY291c2lucy1kcml2ZXdheS1zdGF5ZWQtY2xlYW4tZHVyaW5nLXNub3dzdG9ybSIsInBsdWdpbnMiOnsiY3VzdG9tQ29tc2NvcmVQbHVnaW4iOnsiYzMiOiJGT1ggOSIsImM2IjoiZnRzIiwic2NyaXB0IjoiaHR0cHM6Ly9zdGF0aWMuZm94dHYuY29tL3N0YXRpYy9vcmlvbi9zY3JpcHRzL2NvcmUvdXRpbHMvY29tc2NvcmUvQ3VzdG9tQ29tc2NvcmVQbHVnaW4uanMiLCJzZGsiOiJodHRwczovL3N0YXRpYy5mb3h0di5jb20vc3RhdGljL29yaW9uL3NjcmlwdHMvY29yZS91dGlscy9jb21zY29yZS9jb21zY29yZS5qcyIsImNsaWVudElkIjoiNjA0MjkwMSIsIm5zX3N0X3N0IjoiS01TUCIsInRpdGxlIjoiVmlraW5ncyBmYW4gbmVpZ2hib3IgbWFrZXMgc3VyZSBLaXJrIENvdXNpbnMnIGRyaXZld2F5IHN0YXllZCBjbGVhciBkdXJpbmcgc25vd3N0b3JtIiwibnNfc3RfY2kiOiIxMTYzODUzIn0sImN1c3RvbVNlZ21lbnRQbHVnaW4iOnsic2NyaXB0IjoiaHR0cHM6Ly9zdGF0aWMuZm94dHYuY29tL3N0YXRpYy9vcmlvbi9zY3JpcHRzL2NvcmUvdXRpbHMvQ3VzdG9tU2VnbWVudFBsdWdpbi5qcyIsInByaW1hcnlfYnVzaW5lc3NfdW5pdCI6ImZ0cyIsInNlY29uZGFyeV9idXNpbmVzc191bml0Ijoia21zcCIsImFwcF9uYW1lIjoiZm94OS5jb20iLCJhcHBfcGxhdGZvcm0iOiJ3ZWIiLCJhcHBfdmVyc2lvbiI6IjEuMC4wIiwic2VnbWVudElkIjoicEI2MDNnSGw0SDAxWWdSRVFoOTl2VE1adlpmNE1YMVoiLCJwbGF5ZXJVbmlxdWVJZCI6InBsYXllci1lOGIzNzE1YS1jNmRjLTRjZWItYjUxZC04MjAxZmJjYWE0YWYifSwiZGZwIjp7ImNsaWVudFNpZGUiOnsiYWRUYWdVcmwiOiJodHRwczovL3B1YmFkcy5nLmRvdWJsZWNsaWNrLm5ldC9nYW1wYWQvYWRzP2l1PS82Mzc5MDU2NC9rbXNwX2ZveDkmZGVzY3JpcHRpb25fdXJsPVtwbGFjZWhvbGRlcl0mZW52PXZwJmltcGw9cyZjb3JyZWxhdG9yPSZ0ZmNkPTAmbnBhPTAmZ2RmcF9yZXE9MSZvdXRwdXQ9dmFzdCZzej0xMDAxeDEwMDEmdW52aWV3ZWRfcG9zaXRpb25fc3RhcnQ9MSZjbXNpZD0yNTM2NzYwJnZpZD0xMTYzODUzIiwia2V5VmFsdWVzIjp7InN0eXBlIjpbIm5ld3MiXSwicHR5cGUiOiJ2aWRlby1jbGlwIiwiYyI6WyJuZXdzIl0sImQiOiJ3ZWIiLCJ1c19wcml2YWN5IjoiMS0tLSJ9fX19LCJodG1sNSI6dHJ1ZSwiZm9ybWF0IjoibTN1OCIsInRva2VuIjoiZXlKaGJHY2lPaUpJVXpJMU5pSXNJblI1Y0NJNklrcFhWQ0o5LmV5SjJhV1FpT2lJeE1UWXpPRFV6SWl3aWFYTnpJam9pYkhoUlRVNDFTalp1VjNWU1lqTlhjemxFUm1KS2NYWmhWV3BLWVRJMVFWa2lMQ0psZUhBaU9qRTJOek15TnpFMk9EQXNJbWxoZENJNk1UWTNNekkyT0RBNE1IMC4zM2xoZnMwM3pHNWxreEdYc0hWX0c0MUFUNGpXVy1RQ2dZa1pjbE5KajJBIn0%3D" width ="640" height="360"></iframe>
LOOK: Here are the 50 best beach towns in America
Every beach town has its share of pluses and minuses, which got us thinking about what makes a beach town the best one to live in. To find out,
Stacker
consulted
data from WalletHub
, released June 17, 2020, that compares U.S. beach towns. Ratings are based on six categories: affordability, weather, safety, economy, education and health, and quality of life. The cities ranged in population from 10,000 to 150,000, but they had to have at least one local beach listed on TripAdvisor. Read the
full methodology here
. From those rankings, we selected the top 50. Readers who live in California and Florida will be unsurprised to learn that many of towns featured here are in one of those two states.
Keep reading to see if your favorite beach town made the cut.
25 True Crime Locations: What Do They Look Like Today?
Below, find out where 25 of the most infamous crimes in history took place — and what the locations are used for today. (If they've been left standing.)
LOOK: Here are the best small towns to live in across America
More From KIKN-FM / Kickin' Country 99.1/100.5