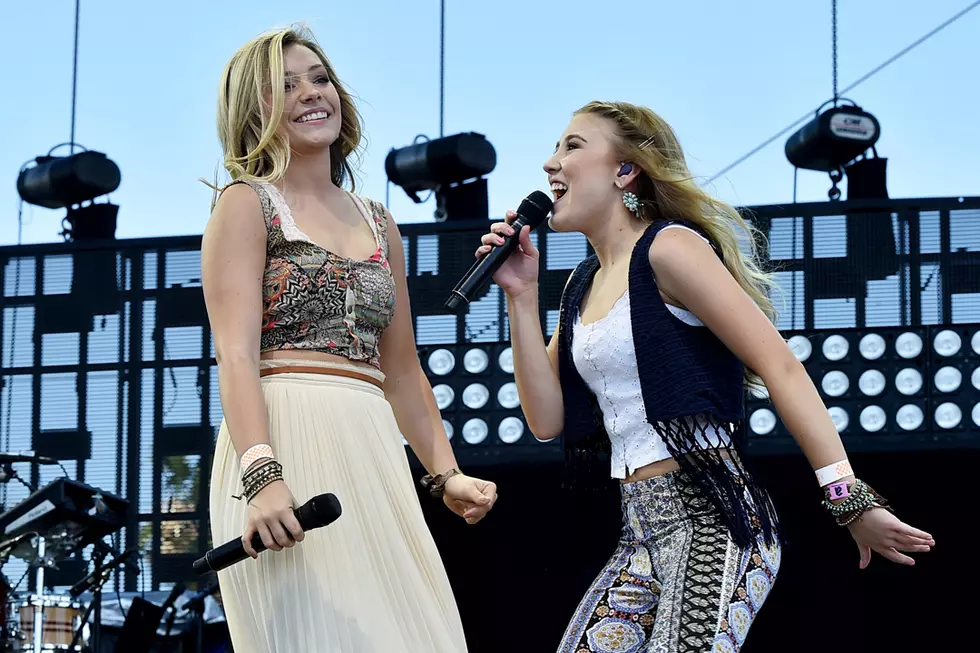 Maddie & Tae Debut New Song, 'One Heart to Another' [Watch]
Kevin Winter, Getty Images
Maddie & Tae are back with a new record deal, and they debuted a new song from an upcoming project at a private showcase in Nashville on Tuesday (Feb. 6).
The vocal harmony duo took the stage at the Universal Music Group luncheon and showcase at the historic Ryman Auditorium in Nashville during the annual Country Radio Seminar to perform a new song titled "One Heart to Another." The slow ballad provides a perfect showcase for their silky harmonies. The song is a warning from woman to woman about a man who's left a trail of broken hearts.
"Well, I don't wanna impose or cause a scene / But I'm gonna tell you what the last one told me / One heart to another / From one ex to the next lover / It gets good, but it don't get better / He'll make you feel like it's forever / From one ex to the next lover / He goes from one heart to another," they sing in the chorus.
Most Powerful Women in Country Music
Click on the video above to hear the new song before it's even released.
Maddie & Tae were part of a lineup that also included  Brothers Osborne, Dierks Bentley, Luke Bryan, Keith Urban, Vince Gill and Chris Stapleton, who performed a scorching cover of a bluegrass favorite of his, "There Ain't No Easy Way." One-of-a-kind musical moments are a routine part of the annual CRS, which brings together artists and record labels together with radio programmers from all over the country to roll out the new music coming to country radio in the new year. Maddie & Tae made their debut as UMG artists after their previous label, Dot Records, shut down in 2017.
"This is a really cool full-circle moment for Maddie and I, because five years ago, when we first moved to Nashville, we actually came to this show," Taylor Dye told the crowd. "We had no idea what we're doing — we still have no idea what we're doing! But, you know what, we get to make music with our new label family, who we absolutely love, so God is really cool."
One Word That Describes Maddie & Tae in High School ... 
More From KIKN-FM / Kickin' Country 99.1/100.5