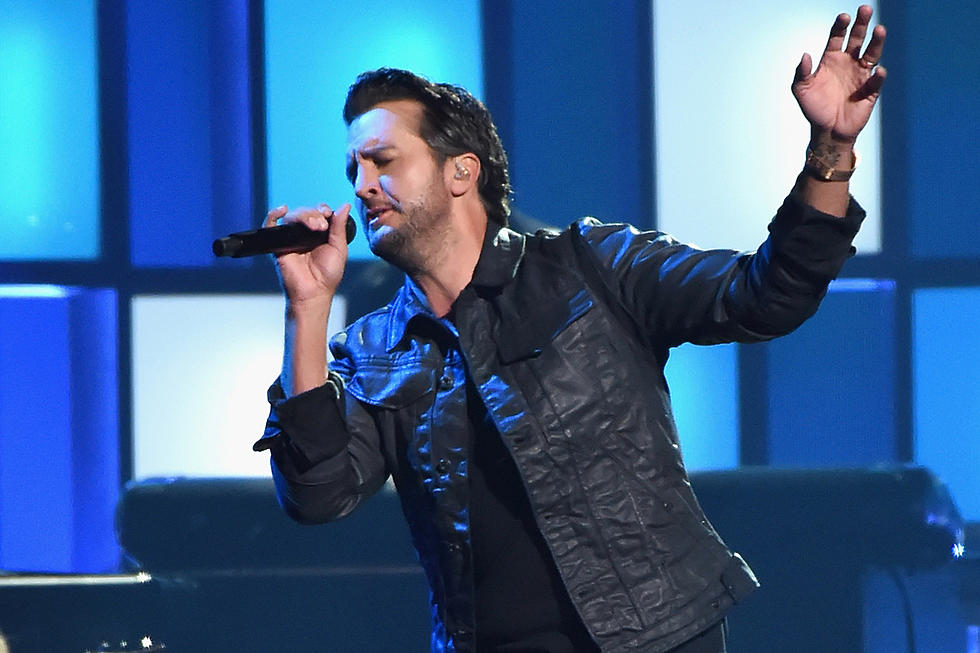 Lyrics Uncovered: Luke Bryan, 'Most People Are Good'
Rick Diamond, Getty Images
Josh Kear, David Frasier and Ed Hill wrote "Most People Are Good" in 2016. It was born out of Kear's desperation to find a silver lining after the intensely negative 2016 presidential election. The songwriter says he's an optimist, and the song reflects this — he hopes it inspires hope in others, too.
"In trying to process all of this one day, I wrote down 'Most People Are Good' as a way of helping myself deal with my feelings about what was unfolding on the public stage. I carried it around for awhile, but I kept coming back to it as a way of making myself feel better," Kear tells Taste of Country. "I figured if it worked for me, maybe it would help someone else too."
When he pitched the idea to Frasier and Hill, they felt just as compelled to write a song built on a strong foundation. Though the "Most People Are Good" lyrics weren't written with Bryan in mind, the song almost felt like a calling when it was placed in his hands. Kear's publisher, Carla Wallace, played it for Bryan's producer, Jeff Stevens, and he knew it was a piece the superstar would be just as passionate about.
"I know Jeff fell in love with the song on the first listen and took it to Luke. My understanding is that Luke also believed in the song immediately and felt like it was his. Once I knew Luke had heard it and loved it, that made perfect sense to me," Kear explains. "It feels like it was meant to be his song. There's an authenticity to his delivery. I know he believes what he's singing. That's all you can ask for, especially on a song that says 'I believe' over and over."
"This is Luke's song. It's a down-home look at our modern world and hopefully an honest reflection of the best our world can be," he continues. "Luke has worked hard to build up a reputation with his fanbase as not only fun, but authentic. The fact that he connects to the things in this song tells me that he truly does believe in each of the things this song talks about."
"I believe most people are good / And most mama's ought to qualify for sainthood / I believe most Friday nights look better under neon or stadium lights / I believe you love who you love / Ain't nothing you should ever be ashamed of / I believe this world ain't half as bad as it looks / I believe most people are good," Bryan sings, giving a sentimental delivery of the "Most People Are Good" lyrics. The last line of the chorus was particularly impactful for Kear.
"I hope this song makes people think," the songwriter says. "I hope this song gives people hope. I think there's so much common ground between people and we are far more focused on what separates us these days. People need messages of love and connectivity more than they need messages of hate and separation. If this serves as one of those messages, than that can't help but be a good thing."
The Best Luke Bryan Moments Ever!
One line that stands out, especially sandwiched between more conservative messages, is: "I believe you love who you love / Ain't nothing you should ever be ashamed of." It's an important lyric for someone of Bryan's level to deliver to his fanbase, because it's a direct statement of support for anyone who's felt degraded by society about who they love."
"That line moves me," Kear says. "Our society has placed shame on loving all sorts of people over the years — for religious, cultural, racial, sexual orientation, and ethnic reasons — just to name a few. It's unfortunate and it's unnecessary. I do believe our social consciousness is changing in this regard. This sentiment is not something new, but it's worth repeating until we all take it for granted. Love is love. We need more of it, not less."
"Most mama's oughta qualify for sainthood" also brings emotion when you hear it — even Bryan's mama wept into a paper towel when she heard it. Kear was inspired by his own wife and mother when writing that "Most People Are Good" lyric — he translated  his strong admiration for them into influential words.
"I think being a mother is about the toughest job on the planet. I'll never know what it's like, so it's an outsiders view," he admits. "However, I have a crazy admiration for mothers. They give and give and give and while this outpouring of love has it's own rewards, it's a calling that will never be respected enough."
"Most People Are Good" continues to resonate with people, and that's all Kear had hoped for, for them and himself. "I needed this message. Truly needed it. I struggle with many of the headlines these days, and this sentiment makes me feel better about the world at large and remember that this is the core of what it's all about," he says. "Most people are just trying to get through each day, doing no harm, helping where they can and taking care of the people they love the most. I truly do believe most people are good. And that gives me hope."
41 Reasons to Love Luke Bryan
More From KIKN-FM / Kickin' Country 99.1/100.5