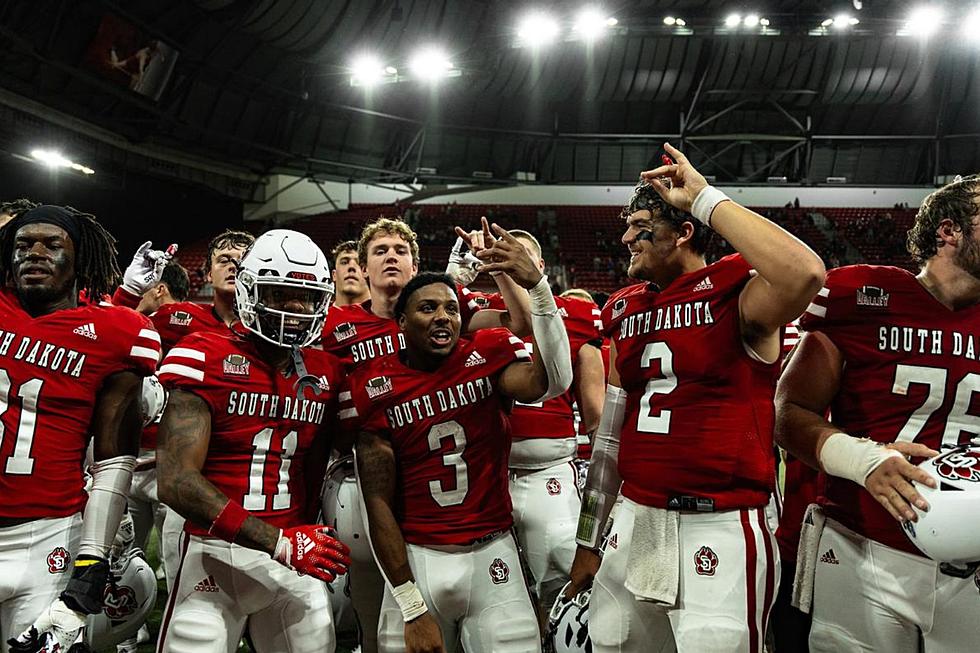 Coyotes Win Regular Season Finale
University of South Dakota
MACOMB, Ill.—South Dakota outgained Western Illinois 559-171 in earning a 48-6 win at Hanson Field Saturday in the regular season finale for both teams.
The fifth-ranked Coyotes improved to 9-2 overall and finished 7-1 in MVFC play. They saw second-ranked Furman and fourth-ranked Montana State lose Saturday and await the FCS committee's decision on a probable top-eight seed, a first-round bye, and a second-round home game on Dec. 2. The playoff selection show is 11:30 a.m. Sunday on ESPNU.
Western Illinois (0-11, 0-8) finished winless for the second year in a row. The Leathernecks played their final gave as a member of the MVFC as they head to the Ohio Valley Conference next season. Western Illinois is a charter member of the MVFC, which was formed in 1985.
Aidan Bouman passed for 268 yards for South Dakota. Keyondray Jones took a touch pass 54 yards in the first quarter and Carter Bell caught a 56-yard bomb in the second. Bell caught seven passes for a season-high 142 yards.
The run-ground game took care of the rest. Nate Thomas returned to the lineup and ran eight times for 102 yards. He took the first carry of the second half 59 yards untouched to the house for a 27-6 lead. L.J. Phillips Jr. took over from there. He ran 15 times for 93 yards and two touchdowns. Phillips had two collegiate carries entering play.
South Dakota defensively shrugged off an early Western Illinois touchdown drive and played nearly flawlessly the rest of the way. Mi'Quise Grace had two of the Coyotes' four sacks. Nick Gaes had another and led the team with seven tackles. Western Illinois finished 3-of-15 on third down and punted 10 times.
Matt Morrissey threw a 15-yard touchdown pass to Tre Maronic with 4:37 left in the first quarter that put Western Illinois ahead 6-3. The Leathernecks faked the extra point try and threw short of the goal line. Jones answered the score with a 54-yard end around on the Coyotes' second play afterward to regain the lead and tacked on two more scores before halftime. Will Leyland drilled a 47-yard field goal as time expired to make it 20-6 at the break.
Morrissey finished 14-of-25 for 120 yards. Torrance Farmer ran nine times for 29. Jay Parker caught six passes for 43.
South Dakota concludes its best regular season record at the FCS level. The team is assured of receiving its third FCS playoff bid in six full seasons under Bob Nielson. The Coyotes have won nine games in a season for the ninth time in program history.
Most Valuable Franchises in American Sports
Five of the ten most valuable franchises in American sports come from the NFL.
Gallery Credit: Scott Prather
South Dakota Born NFL Players of this Century
While not a traditional powerhouse Nation Football League feeder, South Dakota has produces a fair number of football players that went on to the big time in the NFL.
Here are some that have played on various teams over the last couple of decades.
More From KIKN-FM / Kickin' Country 99.1/100.5