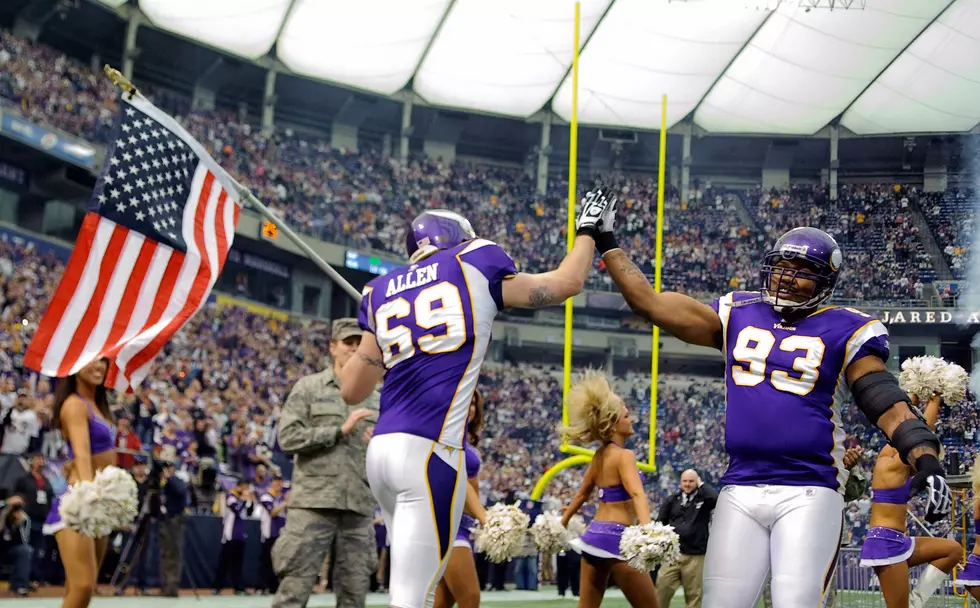 Former Viking Great Jared Allen Named 2023 Hall of Fame Finalist
Getty Images
The finalists for the 2023 class for the Pro Football Hall of Fame have been announced.
One of the finalists is longtime Viking pass rusher Jared Allen. Allen had a notable career spanning a total of 12 seasons, and is being rewarded with a long look from Canton.
Allen is one of 15 modern era finalists, and there are another four senior finalists.
Here is the complete list from NFL.com:
Jared Allen, DE – 2004-2007 Kansas City Chiefs, 2008-2013 Minnesota Vikings, 2014-2015 Chicago Bears, 2015 Carolina Panthers
Willie Anderson, OT -- 1996-2007 Cincinnati Bengals, 2008 Baltimore Ravens
Ronde Barber, DB – 1997-2012 Tampa Bay Buccaneers
Dwight Freeney, DE -- 2002-2012 Indianapolis Colts, 2013-14 San Diego Chargers, 2015 Arizona Cardinals, 2016 Atlanta Falcons, 2017 Detroit Lions, 2017 Seattle Seahawks
Devin Hester, PR/KR/WR -- 2006-2013 Chicago Bears, 2014-2015 Atlanta Falcons, 2016 Baltimore Ravens, 2016 Seattle Seahawks
Torry Holt, WR -- 1999-2008 St. Louis Rams, 2009 Jacksonville Jaguars
Andre Johnson, WR -- 2003-2014 Houston Texans, 2015 Indianapolis Colts, 2016 Tennessee Titans
Albert Lewis, CB -- 1983-1993 Kansas City Chiefs, 1994-1998 Los Angeles/Oakland Raiders
Darrelle Revis, CB -- 2007-2012/2015-16 New York Jets, 2013 Tampa Bay Buccaneers, 2014 New England Patriots, 2017 Kansas City Chiefs
Joe Thomas, LT -- 2007-2017 Cleveland Browns
Zach Thomas, LB -- 1996-2007 Miami Dolphins, 2008 Dallas Cowboys
DeMarcus Ware, LB -- 2005-2013 Dallas Cowboys, 2014-2016 Denver Broncos
Reggie Wayne, WR -- 2001-2014 Indianapolis Colts
Patrick Willis, LB -- 2007-2014 San Francisco 49ers
Darren Woodson, S -- 1992-2003 Dallas Cowboys
In addition to the modern-era finalists will be senior finalists Chuck Howley, Joe Klecko and Ken Riley, and contributor/coach finalist Don Coryell.
It's good news for Vikings fans, who will anxiously be awaiting the announcement of the 2023 class, which will occur during the NFL Honors show on February 9th.
Allen finished his NFL career with 136 sacks and 32 forced fumbles. He played for the Chiefs, Vikings, Bears, and Panthers over the course of his career. His 85.5 career sacks during his time with the Vikings ranks 6th all-time in team history.
Sources: NFL.com and Pro Football Reference (Stats)
Know Your South Dakota College and University Mascots
The college football experience is an ultimate high for football fans and it takes several other teams to make that happen week after week during the season.
Just think about what goes into gameday? First and foremost, the players and coaching staff who put in hours and hours of practice and training to play in front of their fans. Then there's field prep, game officials, live broadcasts, concessions, and on-the-field entertainment. Yep, entertainment.
Second to the game, who do you watch? The cheerleaders? The band at halftime? What about the mascot? That's a job not many people can do.
I asked Sioux Falls native and former Cagey mascot for the Sioux Falls Canaries and Little Red & Herbie for the Nebraska Huskers Nate Welch about being a mascot:
What does it take to be a mascot?
"Losing a bet or filling an opportunity!" Welch says, "An internal energized desire to love life. After meeting great performers who are introverts out of costume, they become the center of attention when they take the stage. And also feeding off the performance of others."
Why does the mascot never talk?
"Know your role and shut your mouth. You are there to entertain. Tell the story with your actions and not your voice."
Advice to someone putting on that costume for the first time?
"Remember you are now in a costume. Have fun. Otherwise, you're just a dork in tights. If the fur ain't flying you ain't trying."
So, can you name the mascots at our South Dakota Colleges and Universities? Check out the gallery below:
More From KIKN-FM / Kickin' Country 99.1/100.5