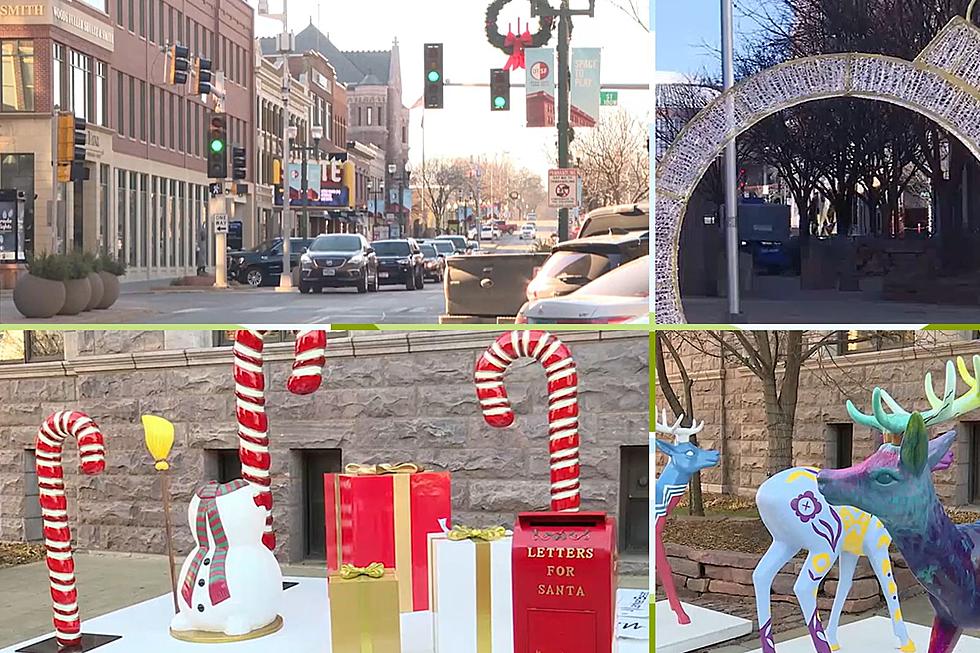 'Winter Weekends' Are Going On in Downtown Sioux Falls
Dakota News Now (with permission)
As you know, the holiday season is all about traditions, and Sioux Falls is attempting to start a new tradition for the residents of the Sioux Empire this year, it's called "Winter Weekends."
According to Dakota News Now, this is a collaborative effort between Downtown Sioux Falls, the Washington Pavilion, and MarketBeat. All three organizations have teamed up to decorate the space in front of the new mural along East 10th Street.
The whole thing is underway and will run every weekend through (December 17).
During the weekend of (December 8-10), downtown Sioux Falls will be celebrating "Happy Grinchmas." Visitors will be able to enjoy light displays and entertainment featuring the Good Night Theatre Collective Caroling Choir, South Dakota Aerial & Arts, Jordan Jaacks musician, and The Premiere Playhouse Christmas Carol Carolers at various times throughout the weekend. Your family will also be able to take part in different Grinch-themed activities planned and don't be surprised if you run into the Grinch himself at some point during the "Happy Grinchmas" weekend.
Winter Weekends wrap up the weekend of (December 15-17) with the 20th Anniversary of "Winter Wonderland" in Sioux Falls.
Dakota News Now is reporting (December 16 and 17), from 1 to 5 PM, downtown visitors can try their luck at a tree ring toss game, snowman bean bag toss, snowman darts, and holiday bowling. All those activities will be free both days. You can also test your knowledge of the Winter Wonderland facts game for the chance to win special prizes.
From photo ops to food, to bumper cars, to live music, and even Santa himself, everything you and your family need to know about downtown Sioux Falls
"Winter Weekends" can be found here.
Source: Dakota News Now
Twelve South Dakota Places to Put on Your "Must Visit" List!
Make the most of summer in
South Dakota
and visit these spots that speak to why SD is great!
A lot of them you might have visited, some you haven't for sure, and some are old favorites that maybe you haven't been to in a while. So, while there is still a little time or even one more weekend, and gas prices are down a bit - - try and make it to one of these great places.
What can be found in these 12 locations?
What can't? Camping, fishing swimming, kayaking, birdwatching, and tons of other great outdoors-type activities. Historical, educational exploration, hobby interests, kids activities, just plain old beautiful scenery, and- - to use an overused phrase- -lots more!
With all of that in mind, let's dive in!
Gallery Credit: Patty D
LOOK: 25 over-the-top Christmas displays from across America
To help get everyone in the mood for the upcoming holiday season,
Stacker
compiled a list of some of the most over-the-top Christmas displays across America.
Gallery Credit: Annalise Mantz & Madison Troyer
More From KIKN-FM / Kickin' Country 99.1/100.5