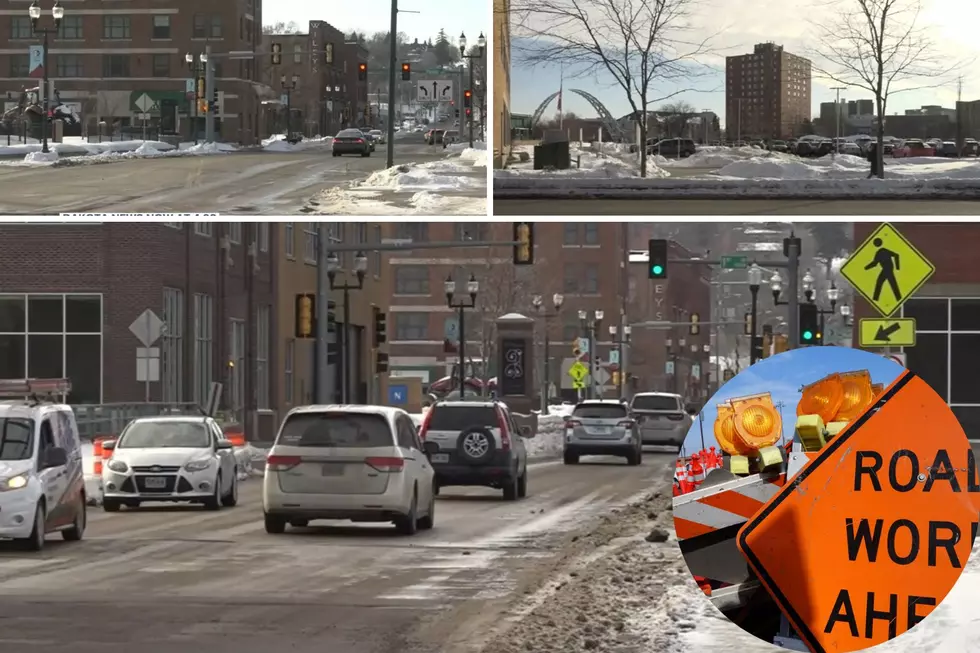 Construction Ahead! Sioux Falls Unity Bridge Project Starts Monday
Dakota News Now (with permission)/Getty Images
Here's a good sign that spring isn't that far away, construction season is already getting underway in Sioux Falls starting on Monday.
The first phase of the Unity Bridge project in downtown Sioux Falls starts on February 13th.
As Dakota News Now reports the Unity Bridge project encompasses 6th Street from the Big Sioux River to Weber Ave. The 6th Street Bridge is almost at the end of its road, no pun intended. The lifespan of the downtown bridge is rapidly coming to a dead end.
This new re-construction project will update underground utilities, including installing a looped water main to ensure a reliable water supply to adjacent developments; and utilizing streetscaping to enhance vehicle and pedestrian traffic.
What improvements can we expect once Unity Bridge construction is completed?
According to Dakota News Now, they'll be lighted piers, landscaping, elements for the future quiet zone/whistle reduction railroad crossing, diagonal parking along 6th street, and a series of plaques that will pay tribute to leaders who exhibit community spirit and unity that make Sioux Falls a welcoming home.
Once construction begins, the city wants to remind drivers and pedestrians in the downtown area to use caution and keep an eye out for alternate routes that will help make travel in the area a little faster and more efficient.
Here is the area od Sioux Falls that will be under repair...
The 6th Street bridge will be closed beginning Monday, February 13th. Dakota News Now is reporting, that access to LSS and Cherapa Place will be maintained via 6th Street from Weber Avenue.
Once the weather starts to turn nicer, hopefully, that will be happening sooner, rather than later, right? The River Greenway Recreation Trail, along the east bank of the Big Sioux River, will be closed from 8th Street to the Falls Park entrance on Weber Avenue.
The city plans to establish a detour that will be set up on a route west of the Big Sioux River through downtown and along Phillips Avenue into Falls Park.
One final thing,  you'll need to slip on a pair of patience pants for this project. It's going to be a long one. The estimated completion date for the entire Unity Bridge project is July of 2024.
Source: Dakota News Now
The 5 Best Things About February In South Dakota
I hate winter. Let's just get that out of the way first.
I think maybe I loved winter until I was about, oh, ten years old. Playing in the snow, ignoring the cold. It was a hoot. But truth be known, it's been a long time since I was ten.
Ever since then, I have NOT been a fan. And with that being said, I have found the best 5 things about February here in the
Sunshine State
.
10 Reasons NOT To Move To Sioux Falls ;)
Sioux Falls
is a special place. There is really no place else in the world quite like it. It is a unique spot of shining joy on the edge of the plains. But, if someone is planning to move here, there are a few things to know...
More From KIKN-FM / Kickin' Country 99.1/100.5