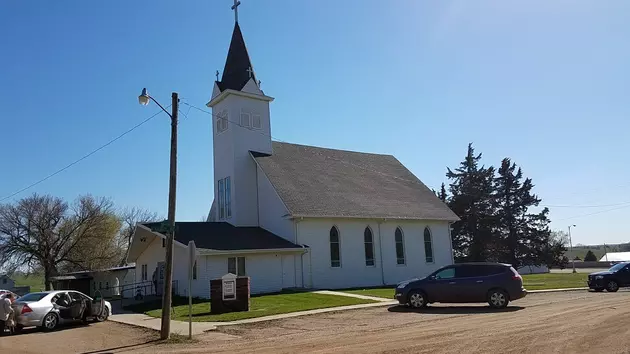 Have You Ever Been to Dante, South Dakota?
JD Collins/KIKN via Sprint Sioux Falls
This past weekend my wife and I visited friends in the Armour-Wagner area. Over the course of the weekend we did a little road tripping and saw some places I had never been to before.
The first place was Dante, South Dakota. I'd never been the "few miles off the beaten path" to Dante. My sons, Logan and Tad, had boasted about the great times they'd had there for street dances, but I'd never been there.
We decided to catch the 4:00 PM Mass at Assumption of Blessed Virgin Mary. We were a bit late, so we had to sit way up in front. That's OK though, it made it easier for me to pay attention.
After church we did a drive through Dante. It didn't take too long. A block here and a block there had us covering the north and south ends of town. I took a few pictures on the way out.
After Dante, we followed an ambulance (not really, but one went by) and caught the oil that heads up north. The road took us through the north end of the new Bethovan Wind Farm.  From there I suggested we drive around the Amish Farm to see if they might be working out in the fields. Good news is they were, so I snapped off a picture of the worker and his 5-horse power tractor.
After that we road tripped over for dinner at The Dugout just off Main Street in Tripp. A couple of beers and steaks later and it was back to the place. All in all, a pretty cool weekend. Got to see some places I'd never been before.
I almost forgot the highlight of the trip: a visit to Tripp Lake. A couple was pulling their boat out when we left, so we're not sure the fish were biting.
Make sure you share this with your Facebook and Twitter friends who are familiar with the Tripp, Dante area. And if you have anything to add to the story, make sure you let me know: jdcollins@kikn.com.
By the way, I took pictures on the Samsung Galaxy S7 I use courtesy of Sprint. Here are some of the shots from out trip.
---
More From KIKN-FM / Kickin' Country 99.1/100.5