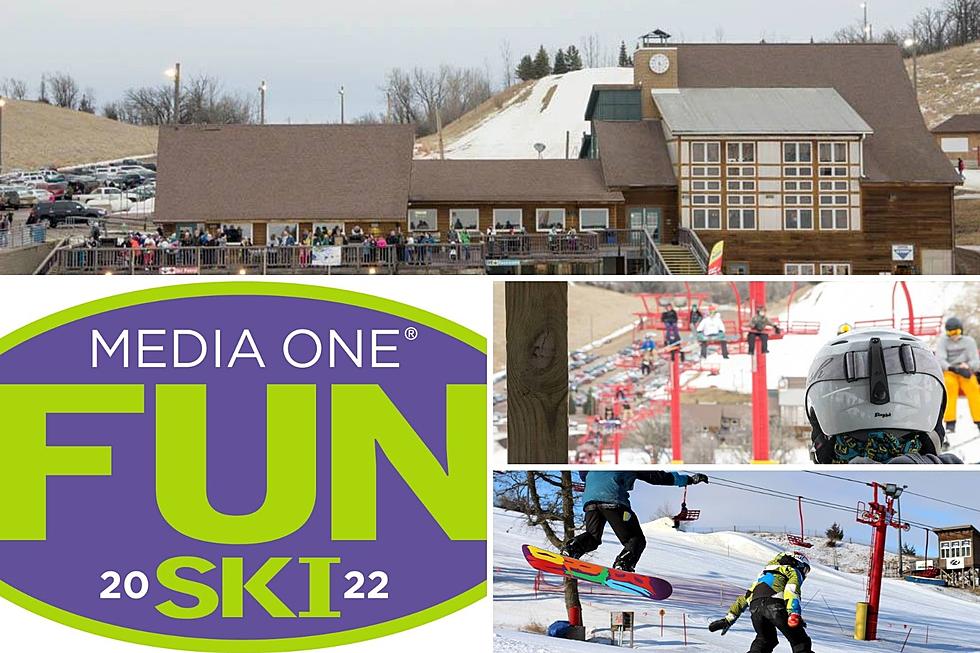 Get Your Ski's Out, 2022 Media One 'FunSki' Is Coming
Media One (with permission)
The gang at Media One FunSki wants to say thanks a million to the people of the Sioux Empire!
Over the past 33 years, FunSki has helped to raise over one million dollars for Sioux Falls Children's Inn. A local abuse shelter here in Sioux Falls, assisting victims of domestic violence, sexual assault, and child abuse.
Thanks a million to all the donors and to the thousands of participants and spectators who have helped make their very important work possible over the past 33 years.
The 2022 version of Media One FunSki hits the slopes of Great Bear Recreation Park on Friday and Saturday (January 21st and 22nd.)
FunSki is sponsored each year by a variety of awesome local businesses and organizations, including Dakota News Now and all of us here at Results-Townsquare Media.
This year's event kicks off at 9 AM sharp on Friday (January 21) with a FunSki favorite, the Snow Sculpture Contest. Snow tube races and the ever-popular Rail Jam are also planned that day.
The Sioux Empire's premier outdoor winter event continues again on Saturday (January 22) with the Cross Country Ski Race 5K at 8 AM. The Fat Bike Race starts at 10, followed by the Downhill Corporate Cup at 1 PM, the Snowboard Giant Slalom at 3, and the Zipfy Sled Races at 4 PM.
Award ceremonies for each event take place about 15 minutes after the event concludes in the bar area of the chalet.
Online registration is now underway. The online registration period ends at 8 AM on Friday (January 21). However, you can still register in person on both days up to one hour before the event is slated to begin.
Complete details regarding the 2022 Media One Funski, along with a full slate of competition events, and sign-up information is available here.
TRENDING FROM RESULTS-TOWNSQUARE SIOUX FALLS:
Great Bear Ski Valley
Ten Commandments of Sioux Falls
More From KIKN-FM / Kickin' Country 99.1/100.5