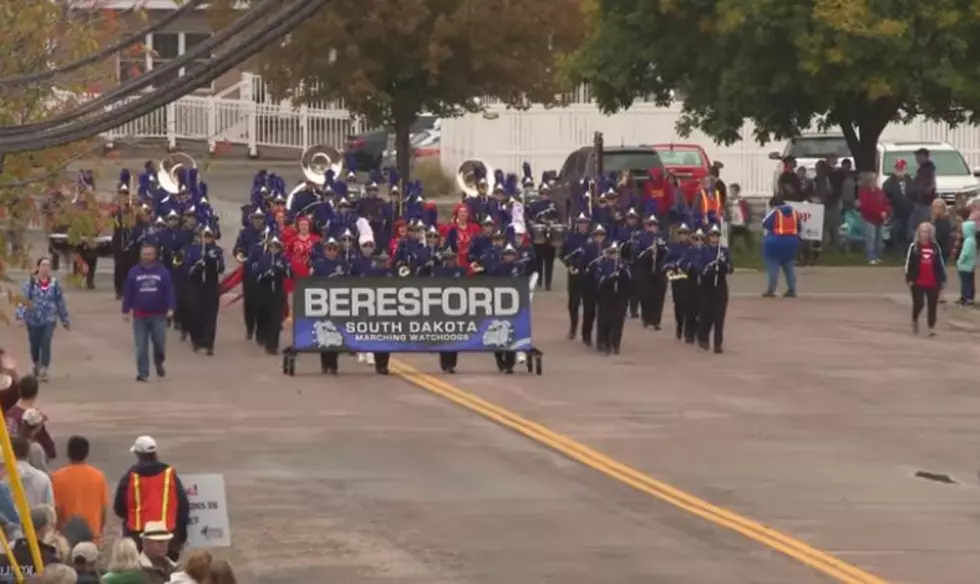 Everything You Need to Know About the Festival of Bands in Sioux Falls
SF School District via YouTube
The 35th Annual Festival of Bands USA is Saturday, October 1 in Sioux Falls at Howard Wood Field (MAP).
The first thing you need to know is that this huge event is truly an event for families. Families who have kids participating and families just looking for a day of fun and extraordinary musical entertainment.
The 35th Annual Festival of Bands USA is this Saturday, October 1. It is considered one of the nation's largest marching band events, featuring over 40 bands and bringing over 15,000 people to Sioux Falls from South Dakota, Minnesota, Iowa, and Nebraska!
The five Sioux Falls schools hosting the celebration this year are Washington, Roosevelt, O'Gorman, Lincoln, and Jefferson High Schools. All five will perform in the Field Exhibition during the event finals, beginning at 6 PM on Saturday.
This long day of music and marching starts with a parade that will begin on West Madison Street, turn onto North Lake Avenue by Covell Lake and the baseball fields, and end at the corner of North Lake and West Avenues.
The field competition takes place at Howard Wood Field from 10 AM to 6 PM. Finals begin at 6 PM, followed by the host schools' exhibition performances. Finally, the awards are given to the top 5 bands and also the best Drumline, Drum major, Hornline, and Guard.
Parade watching is free for everyone, but you will need a wristband to get into the field competition. Adult wristbands are $15, $10 for students, and kids 5 and under are free. Wristbands can be purchased in advance at all Lewis Drugs in Sioux Falls and Brandon, or at Howard Wood Field, on the day of the competition.
You can catch a live stream of the event and get more information at Festival of Bands.
Flashback 1992: Inside Sioux Falls Old Washington High School
The modern marvel that is
YouTube
never ceases to amaze me. Sure, there's plenty of garbage there, but you can also find some gems.
Before it was the Pavilion, the corner of Main Avenue and 11th Street in Sioux Falls was home to many of the city's schools for most of the 20th century.
Built on the site of the former Central School, WHS's first class of 328 students started in 1908. It was the only high school in Sioux Falls until Lincoln High was completed in 1965.
The class of 1992 was the last class of Sioux Falls to graduate from the old Washington High. That fall the new
WHS
, constructed on N. Sycamore Ave on the east side of the city, took over the name and educational mission.
Check out the shots below for a flashback to 1992.
9 Sioux Falls Streets Visitors Have A Hard Time Pronouncing
If you are visiting or new to
Sioux Falls
and trying to find your way around, chances are you really don't need to pronounce street names correctly. All you have to do is enter your destination into Google Maps and your phone will show you the way.
But what if you are trying to tell someone where your cool friend or family member lives in our fine city? Some of our streets and avenues have tricky spellings that may throw visitors for a loop when trying to sound them out.
No one is going to mess up on the big thoroughfares like Minnesota Avenue, Western Avenue, or Louise Avenue but what about these?
More From KIKN-FM / Kickin' Country 99.1/100.5