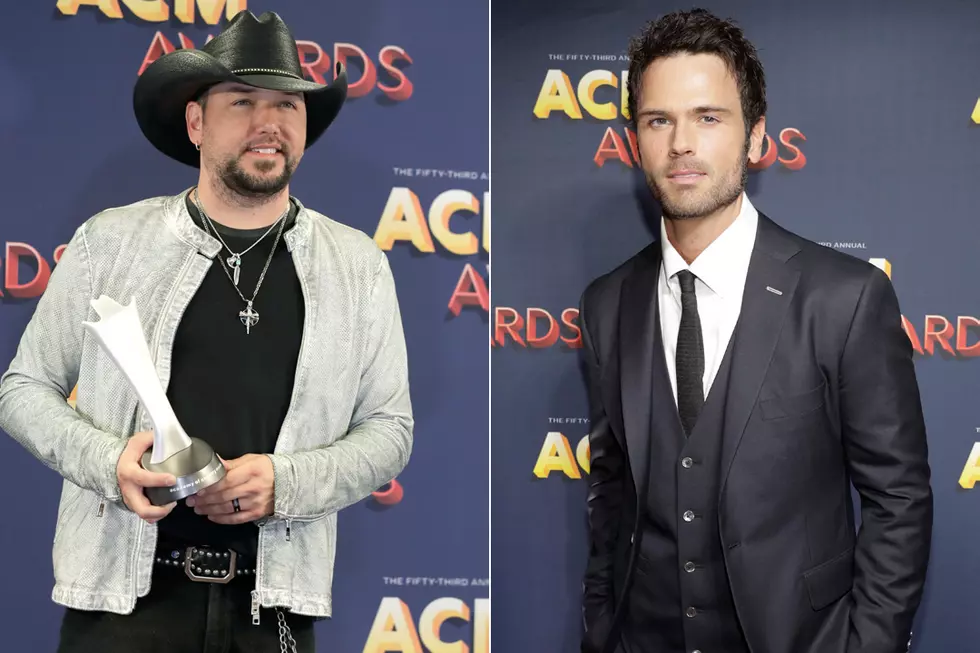 Jason Aldean's Sister Is Dating Chuck Wicks, But Don't Worry — It's Not Weird!
Issac Brekken, Getty Image
Jason Aldean's longtime friend Chuck Wicks is dating his sister, Kasi, which has to be kind of weird, right?
It doesn't sound like it. The "Drowns the Whiskey" singer recently talked about the budding romance during an interview with Nash FM in New York City. Wicks was nearby as Aldean spoke candidly about the pair.
"The one thing I told my sister when I found out they were kind of talking," Aldean recalls (quote via the Ty, Kelly & Chuck podcast from Aug. 13), "I was like, 'I'll be honest, there's a lot of people in Nashville I would be completely against you dating, but I don't have anything bad to say about Chuck."
Wicks — the "Stealing Cinderella" hitmaker, reality television star and current radio host — remembers Aldean calling him a day or two after their first date to say that as long as his sister is happy, he's happy. Aldean and Wicks once shared a hunting lease together in Tennessee.
The first clue that there was a romance in the works came in June, when Brittany Aldean (Williams) posted an Instagram photo that showed Wicks standing behind Kasi during her birthday party. It sounds like their relationship is still in the early stages, but now that the secret is out, there have been no shortage of moments shared on Kasi's Instagram.
This is the photo that made it social media official:
On Wednesday (Aug. 22), a post at the Ty, Kelly & Chuck Facebook page revealed that Wicks is bringing Kasi home to Delaware to meet his family for the first time soon.
Kasi identifies herself as Kasi Rosa Williams on Instagram, but Fox News points out that she was once married to Bill Morstad. Wicks has never been shy about talking about his relationships. Fans of Ty, Kelly & Chuck knew he was with personal trainer Brittany Farrar in 2017. He also dated singer and Dancing With the Stars pro Julianne Hough in 2009.
See Inside Jason Aldean's Fairytale Mansion!
Do You Remember the Other Reality Show Chuck Wicks Was On? 
More From KIKN-FM / Kickin' Country 99.1/100.5