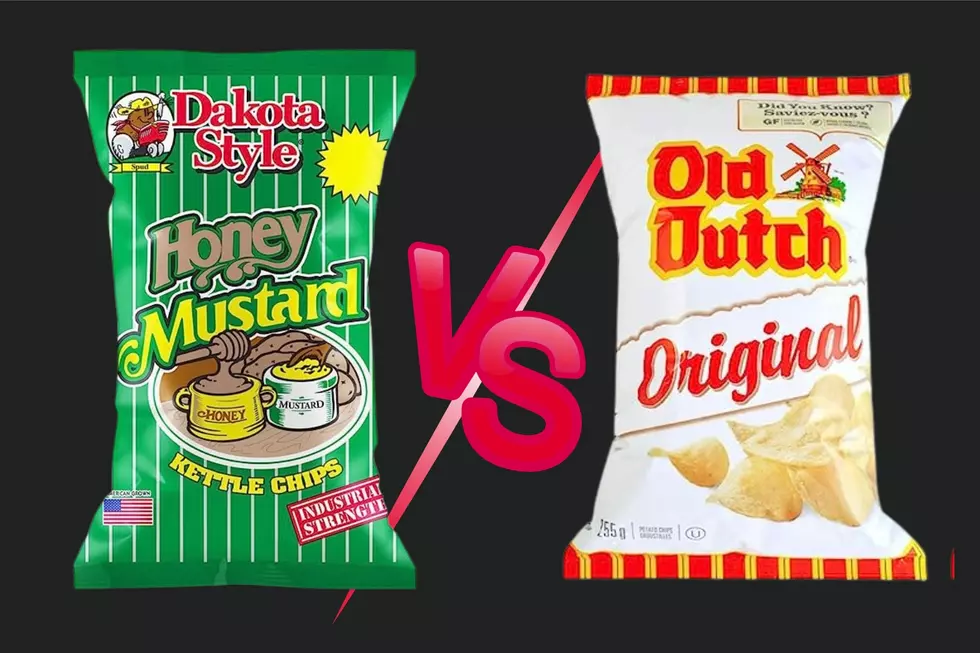 South Dakota's 'Dakota Style' VS. Minnesota's 'Old Dutch' – Who Has the Best Chips?
Amazon/Canva
Who Has The Best Potato Chips? South Dakota's 'Dakota Style' VS. Minnesota's 'Old Dutch'
You know how it is when you meet your soulmate. Everything seems to fall in place, the world seems a little better, a little brighter, and a little kinder.
That was exactly how it was, the first time I tried Dakota Style Honey Mustard Potato Chips. I can't be sure, but I think I even heard a small angel choir singing quietly.
They are the perfect combo of sweet and savory. Not too salty and has that absolutely perfect kettle-cooked crunch. Sometimes you're lucky enough to get one that is a smidge browner than the rest and that is the true treasure in the bag!
South Dakota Pride: Dakota Style Chips
This is not really all that surprising, given that these morsels of deliciousness are manufactured in a South Dakota community that grows its own potatoes. They even throw the tremendously fun bash, Clark Potato Days (maybe I should have said "mash")!
The celebration is famous across the country for the hilarious "Mashed Potato Wrestling," And Potato Days, wouldn't be Potato Days without a "Mashed Potato-Eating" contest!
Old Dutch Chips are made in Roseville, Minnesota. That company was started by Carl J. Marx in 1934. He liked the name 'Dutch' because it sounded like something clean and of quality.
You'd probably recognize their classic windmill logo.
Old Dutch Chips are tasty chips too. Great snacks from the great folks in the land of lakes. Plus, they have a Canadian connection, which can get us the All Dressed flavor. Old Dutch are a wonderful snack choice...when you can't find Dakota Style Chips! (Just my opinion).
South Dakota Almost Lost Dakota-Style Chips
Back in 2016 when the family-owned Clark, South Dakota, business suffered a devastating fire, Dakota Style Chip lovers like me went through a mourning period that lasted until the first day I saw them back on the shelves after a few months. I had almost given up hope that they would come back.
Sunflower seeds and kernels are a significant percentage of Dakota Style's business. But to me, there will always be one love and that is my Honey Mustard chips.
I included the Jalapeño Chips in the photo because the guy I hang out with every morning (KKRC's Ben Davis) loves those the most.
So in conclusion, if you try Dakota Style Honey Mustard Potato Chips, (if you never have before) and you don't think they're the best potato chips ever, then you are simply buying into the potato chip cartel misinformation campaign!
Sources: Reed Fund Agri-Business Loans Fund and Clark, South Dakota
South Dakota Foods You Must Try
Some foods are distinctly South Dakota. How many of these amazing South Dakota dishes have you tried?!
If you live in
South Dakota
chances are you've eaten many of the items on this food list.
But if you are visiting our state or if you just haven't gotten around to chowing down on these great eats, you need to get on it.
Some foods are distinctly South Dakotan. Here are the 9 South Dakota Foods You Must Try Before You Check Out …
Dives Worth a Drive in South Dakota, Iowa and Minnesota
Almost every small town has a watering hole. It's where the locals go to kick back a few brews and engage in conversation. Some of these establishments are located in buildings almost as old as the town itself. There might be a fresh coat of paint on the walls or new vinyl on the booth seats, but the ambiance is still reminiscent of a good ol' dive.
If you think a dive bar is all about sketchy clientele and the smell of the Devil's lettuce and stale Grain Belt, you'd be wrong. Not every dive bar has a bad reputation.
Let's determine what makes a bar a dive bar.
A dive bar has character. Neon beer signs and local memorabilia adorn the walls.
There are usually only a few televisions.
You might even find a pool table, dart board, and a few video lottery machines.
The bartender knows everyone and all of the town's gossip and they know what you drink.
Dive bars are known for their inexpensive heavy pours and happy hours.
Many dive bars don't even serve food, except for the perpetual pickled eggs and maybe a pepperoni Tombstone.
Dive bars aren't fancy. You might see 70's-style wood panel on the walls and wobbly tables leveled with a folded napkin.
And, finally, the bathrooms. The bathrooms in dive bars are in a class by themselves and could be a whole topic on its own.
There are several small-town dives in our area with friendly faces, cheap booze with a burn, and even really good food! We use the term "dive bar" in the most affectionate way. Here are some of our favorites.
Iowa Palmer Company's Twin Bing Products
Can you even really claim to live in this part of the country if you've never had a
Twin Bing
?
WHAT IS A TWIN BING?
"It consists of two round, chewy, cherry-flavored nougats coated with a mixture of chopped peanuts and chocolate. The Twin Bing was introduced in the 1960s," -
Wikipedia
Not only has the TB been a staple of the Sioux Empire for over half a decade, but the makers of the classic candy have also infused the unique cherry and chocolate flavor into lots of other things.
More From KIKN-FM / Kickin' Country 99.1/100.5