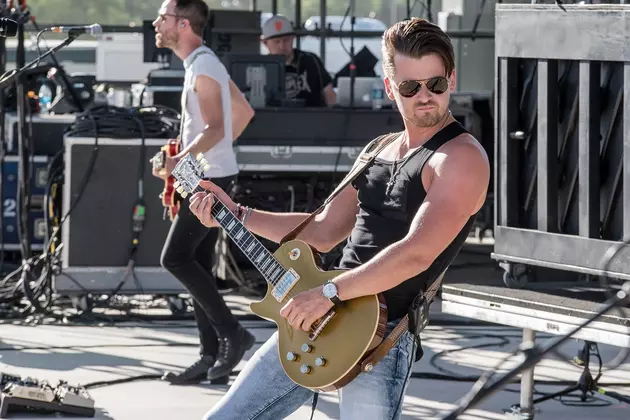 Chase Bryant Shows His Guitar Chops at Country Jam 2016
Photo by Chad Johnson
Chase Bryant is a relatively new artist, but he performs like he's already a full-blown rockstar — probably because he's got the pedigree of one. The 22-year-old is the grandson of Jimmy Bryant, who played with Roy Orbison and Waylon Jennings, and his uncles Jeff and Junior Bryant co-founded Ricochet. At Country Jam 2016, though, Bryant showed the crowd that he's got chops of his own; he's not coasting along on his family's resume.
Dressed in ripped jeans and a tight black tank top, and playing a number of classy-looking guitars (upside down, of course), Bryant blazed through an hour-long set on Thursday afternoon (June 16) that highlighted his musical skills — namely, his ability to absolutely shred on guitar. In fact, Bryant ended his set with his first radio hit, "Take It on Back," concluding with an intense solo that had the artist down on his knees, back on the stage floor.
Bryant wasn't afraid to add a bit of pop and soul into his set either: He offered up a soulful rendition of Stevie Wonder's "Superstition," followed by a cover of Walk the Moon's "Shut Up and Dance" that did, in fact, get the crowd up and dancing. While introducing his band, which includes his cousin on bass, he even offered up his own version of Ricochet's hit "Daddy's Money."
While Bryant's past hits, "Take It on Back" and "Little Bit of You," are uptempo and a bit poppy, the artist's upcoming new single, "Room to Breathe," is a bit more sultry and dance-y. Still, there's a strong guitar riff throughout it, characteristic of Bryant's music. The single doesn't officially drop until Friday (June 17), but Bryant gave Country Jam festival-goers a sneak peak at the new tune a day early.
Chase Bryant Talks New Music and Tim McGraw's Emoji Game
More From KIKN-FM / Kickin' Country 99.1/100.5